So you've made your decision to get custom plantation shutters. You know your louver size, whether or not you want midrails, and how you're covering each opening in your home. But one more question remains...would you like them painted or stained?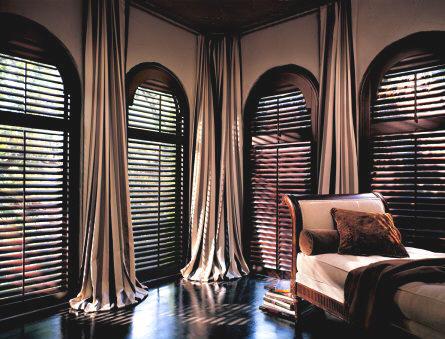 That's a big question, and there's a lot of thought that should go into it, considering what a big difference custom plantation shutters make to your home. Here are 5 things to consider when choosing between paint and stain. Hopefully we can shine some light on what you should be looking for when making your choice.
1. The Overall Look
For the most part, plantation shutters match the trim of the home, which 9 times out of 10 is some form of white (spoiler alert...there are A LOT of whites to choose from). Many homes look great with bright, crisp plantation shutters, and most of our customers go this route, but if you want a different look, perhaps choosing a stain could really set the mood of the home. This is entirely up to you and what look you'd like for your home.
2. The Process
When deciding which route to go with your plantation shutters, you also need to consider the processes of both paint and stain. At Naples Shutter, we use premium poplar wood for our painted shutters and basswood for our stained shutters. This means that typically once you decide to go the painted route, switching to stain isn't as easy as you'd think. Basswood has more detail than poplar and thus looks better with a stain over it, so it's more than just changing your mind to stain, it's changing the wood as well.
3. The Lead Time
Many times, when staining plantation shutters, we're matching something in the house, whether it be cabinets or trim, or even a piece of furniture. Because not every stain is the same, matches need to be done to ensure that your new plantation shutters are going to complement the rest of the stain in the home. Once your match is suitable, your plantation shutters are stained, which takes slightly longer than simply painting them. Stain also takes a little longer to dry. With these things in mind, the lead time for stained plantation shutters is slightly longer than their painted counterparts.
4. Durability
Something that we Floridians need to constantly keep in mind is protecting our things from the sun's harmful rays. Your new custom plantation shutters are not immune to destruction. Making sure you pick a durable paint or stain is essential to keeping your shutters in pristine condition. Choose a quality paint or stain to protect your new additions from fading and deteriorating in the sun.
5. Your Options
Your shutters can be any color you want them to be. You definitely have more color options if you go the painted route. Stained shutters are limited in the colors that you can choose from, but it's important to choose what's right for you. If you want purple shutters, then go for it!
Making Your Choice
The bottom line is simple. Plantation shutters are a great investment. Not only do they provide protection for your things against the sun, they also increase the value of your home. Choose wisely, weigh your options, and most importantly find a look that you love.