Nowadays, it's simple to get all your home improvement needs handled in one location. Big box stores, like Home Depot and Lowe's carry virtually any product, appliance and tool available and are conveniently located throughout your city. Although it may sound easy to get your window treatment needs handled by the big guys, you may wonder just what type of experience their pros have and what the quality will be of the final product. When it comes to your window treatments, quality, experience and value matter, and you typically won't be able to find that at a big chain store. As more and more Southwest Florida homeowners are seeking to redesign their homes, they're seeing just how big a role window treatments play in a home's design.
So, when it comes to local window treatment companies versus big box stores, which should you choose? Let us help you decide...
Local Window Treatment Companies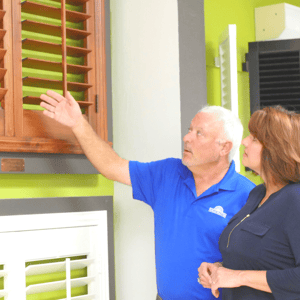 Profound knowledge of the various products available and a keen eye for detail greet you when you choose a dedicated window treatment company. Not only will you get experts who will help you design the right look for your space, you'll also get a top-quality product at a fair price. When you decide that you're going to shop for new window treatments for your home, it's an investment that will either please or disappoint you in the end. That's why choosing the right company is your first step in ensuring you're getting the product that works for you. You're not just another number in a big store, you're you...and your window treatment professional actually takes the time to get to know you and what you're looking for in a window treatment product.
Not only will you get matched to a professional with years of experience in the industry, your product is made with care, and at Naples Shutter, you can rest easy knowing that your products are made right here in Naples!
Big Box Store Competition
When you walk into a big box store, you're just another customer. Chances are, the employees have seen many, many people walk through the door that day who went on their way, attempting to find what they were looking for to complete their project. The biggest complaint that we see from clients who started their shopping experience at a big box store is that the team member didn't know enough about the window treatments offered and they didn't take the time to find the product that was right for them. Instead, timing is everything and getting customers in and out is the name of the game.
Now don't get us wrong, big box stores are fantastic...for certain things. Window treatments are a tricky aspect in a home. Measurements, product recommendations and craftsmanship take years of experience to perfect, and chances are, you're more likely to find a higher level of experience at a local window treatment company than at a big box store.
What to Look for in a Window Treatment Company
When you're on the hunt for the right company to team up with for your window treatments, take the following into consideration:
Craftsmanship

Product availability

Quality

Customization options

Experience

Professionalism

Value
Choosing to partner with a window treatment company, as opposed to a box store has its definite advantages. In the end, the decision is entirely up to you, so be sure to weigh your options and choose the right fit for you. After all, you'll be the one looking at your window treatments for years to come. Be sure you're admiring them and not being disappointed with them.