The kitchen is often thought of as the heart of the home, and quite literally one of the busiest spaces in the entire house. Selecting the right window treatments for this area is key, and there are many choices on the market today, including PVC shutters, poly plantation shutters and various types of blinds and shades. When it comes to kitchen window treatments, selecting the right product for your space is important. Here are our top tips to ensure that you're satisfied with your choice.
What Window Treatments Work in the Kitchen?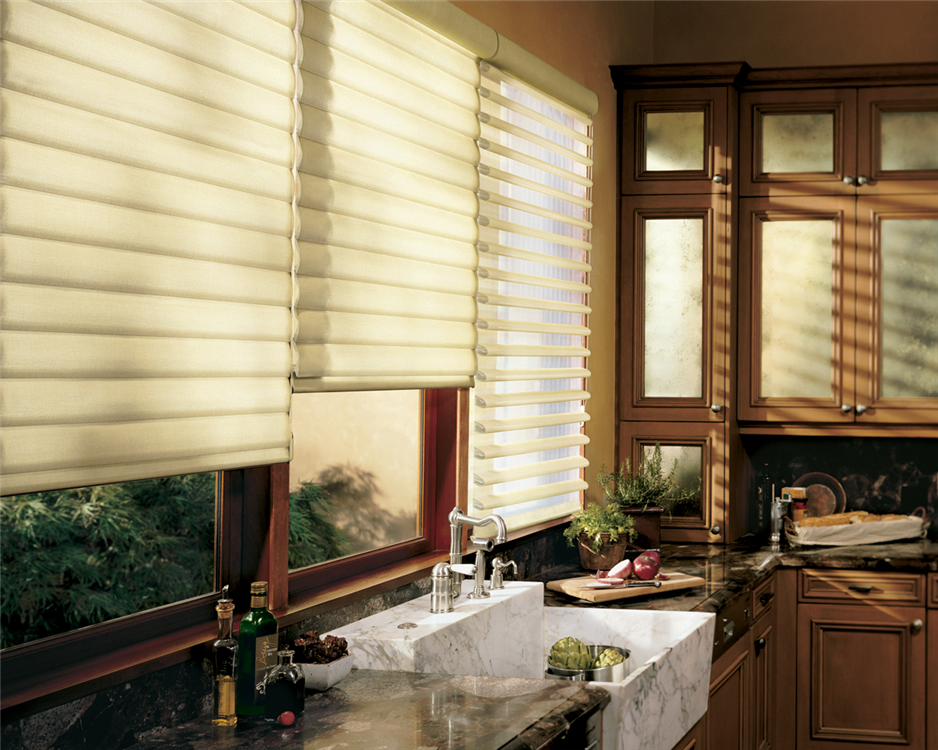 Think of all the time spent cooking in your kitchen. Now think about the heat, moisture and residue that you leave behind after making a meal. Having delicate window treatments in this area can make cleaning and maintaining them difficult. That's why many people opt for:
PVC shutters
Poly plantation shutters
Blinds and shades
You'll need to find a window treatment option that not only works well in the space and complements your design, but is also functional. Let's discuss your options.
PVC Shutters
Constructed of a rigid polyvinyl chloride material, PVC shutters are perfect for moisture-prone areas, like kitchens and bathrooms. Complete with stainless steel hardware, you can ensure that these shutters will stand the test of time in the kitchen. PVC shutters can also be customized to meet your needs, including:
Frame or frameless options
Color choice of white or off-white
Two louver sizes available
Have peace of mind, knowing that your window treatments won't get damaged at the sight of a little moisture, because after all, the kitchen can get messy!
Poly Plantation Shutters
Like PVC shutters, poly plantation shutters are moisture-resistant as well and provide that unmatched look of plantation shutters. Sturdy and long-lasting, poly plantation shutters are a top choice for kitchens and other areas of the home that are prone to moisture. Other benefits of poly shutters include:
Durable construction
Resistant to warping, chipping and yellowing
Slider and midrail options available
Easy to maintain
For the crisp, clean look of plantation shutters with the durability of poly construction, this window treatment option is a win when it comes to kitchen spaces.
Blinds & Shades
If plantation shutters aren't on your design list, you may look into blinds and shades. Some varieties are constructed of durable vinyl materials, which are moisture and humidity-resistant and are also protected from fading and warping. This makes them an ideal choice for this hectic area of the home. Many varieties of blinds and shades can be customized, including:
Louver/slat size
Color
Texture
Decorative detailing
Headrail options
Cord & operation systems
Mounts
With so many style choices to select, it's easy to find the right fit for your space. And with a variety of cord options, you can select the most convenient option for you.
Choosing the Right Product for the Space
When shopping for window treatments, take a moment to assess their main responsibility in the space. Are they simply decorative or do they need to provide some functionality? What are you trying to accomplish with your window treatments? After you figure that out, look around at the products that are available to you and customize them to meet your needs. Keep in mind your budget and find something that will add that extra level of style and functionality to your kitchen.