Hurricane season is quickly approaching. Here at Naples Shutter, we want your family and your home to be as safe and protected as possible. Weather forecasters have predicted that this hurricane season is going to bring some major storms, and we all know that the path of a predicted hurricane can change overnight. But whether a hurricane is near or far, it's better to expect the unexpected and be as prepared as possible. Let's talk about some hurricane protection options for your lanai.
AstroGuard Hurricane Fabric

Protecting the outside of your home works hand-in-hand with protecting the inside. With AstroGuard Hurricane Fabric, you can feel confident that nothing is going to get through your windows. You can rest assured knowing that the resin-coated hybrid fabric is category 5 wind-load tested and 40% stronger than polypropylene. AstroGuard provides a complete barrier of protection to your lanai which deflects hurricane-force winds, preventing pressurization of the home. Weighing just one ounce per square yard, AstroGuard offers many other crucial benefits:
Blocks 99% of wind and rain.
100% UV resistant but translucent so that light comes in.
Lightweight and compact for easy storage.
Protection from flying debris.
Insurance, Florida Building Code, and High-Velocity Hurricane Zone (HVHZ) approved.
If you are worried about the cost of hurricane-proofing your house, AstroGuard is the best value and saves you money on other expenses:
It can reduce your homeowner's costs.
Because AstroGuard is easy to deploy, you may not need to hire a handyman to put it up and take it down.
The way that the fabric is designed allows for an easy fold up in its own storage bags, taking up little space in an attic, garage or storage unit.
Early hurricane preparation is a breeze with AstroGuard and protecting your lanai will be the least of your worries. View test footage from the lab here, to see for yourself why AstroGuard is the most popular method for making sure your family and your house is safe.
Rolldown & Accordion Shutters
These type of shutters are a favorite for the lanai area with their instant deployment and multi-use features but what's the difference between the two?
Rolldown Shutters- these are available in aluminum and can be easily controlled from the interior or exterior by using a hand crank or electric motor. Rolldown shutters can be rolled to any position that you wish, to allow ventilation when they aren't completely closed.
Accordion Shutters- these shutters are installed using a track on the top and bottom which provides maximum storm protection for your home. Since the accordion shutter has two bottom tracks available, this gives you the option to make it removable, therefore eliminating a tripping hazard when installed in a lanai opening or doorway.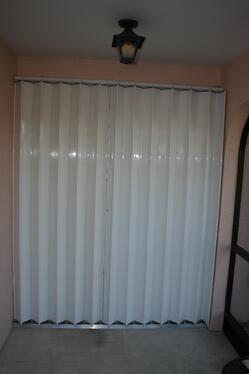 Both Rolldown and Accordion Shutters can be permanently installed on any lanai opening, window or door and can be used throughout the year. With these particular shutters you get several benefits:
Complete protection from the storm.
Break-ins are no more with the Rolldown and Accordion shutters.
The inside of your home is protected from the sun.
Any and all noises are reduced.
Rolldown and Accordion shutters are perfect for protecting your home, lanai and family but are also convenient if you don't live in Florida year round. These shutters will save you time by already being installed making it easy for you to close up and go at the touch of a button.
Here at Naples Shutter, we offer an array of hurricane protection products, free measuring and installation, and knowledgeable staff with over 25 years of experience. We know that protecting your lanai and home from hurricane damage can be a task that you may not want to accomplish alone. So don't. We're here to help. Call us for a free consultation (239) 566-8161.