We deal with hurricane season every year. From June 1st through November 30th, Southwest Florida residents get prepared for any inclement weather that may or may not happen. And although a devastating storm may not have hit us in the past couple of years, it doesn't mean that we can expect the same this year. After all, it IS 2020! Anything can and will happen, right? We're certainly hoping that Southwest Florida will remain safe from any catastrophes, but we can't control the weather. What we can control is how we assist our community in getting prepared if a storm's arrival is imminent.
For our latest hurricane preparedness blog, we'd like you to put yourself in the state of mind that a storm is about to make its debut on our shores.
Here's your checklist when a hurricane is on the way.
1. Stay Informed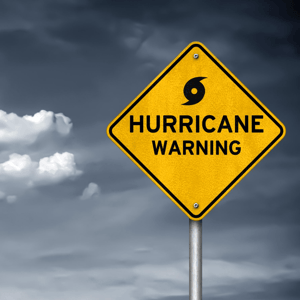 There can be a lot of talk leading up to a hurricane that may or may not affect our region; however, when all signs lead to a hurricane making an impact on Southwest Florida, it's best to listen up and listen up fast. Keep informed on the latest hurricane models, predictions and instructions given by weather professionals and state officials, and take these instructions seriously. If a hurricane is predicted to make landfall in our area, these updates will come in handy, especially as the storm's arrival gets closer. We can't stress this next part enough. If you're ordered to evacuate...EVACUATE! Know your evacuation route and ensure your family and those living with you know it as well.
2. Deploy Your Hurricane Protection
At the point where a storm's impact is imminent, you'll need to locate your hurricane protection and begin deploying it. Don't wait until a storm is on the way to begin thinking about buying hurricane protection. At this point it is too late. It won't arrive in time, which means handling this as soon as possible (before a storm is predicted to affect us) is recommended.
There are a variety of hurricane protection options available, which will need to be deployed prior to a storm's arrival. Deployment for each is as follows:
AstroGuard Hurricane Fabric: All fabric will be stored in bags and marked with their proper openings. Simply attach the fabric via the specialized clips to your windows and door openings.

Accordion or Rolldown Shutters: These are already installed on tracks. You should be able to simply slide them into place.

Metal Panels: Locate the panels and figure out which panel belongs to which window (this can take some time, depending on how organized the panels are!). Then attach to the windows.
Our top choice for hurricane protection is AstroGuard Hurricane Fabric, due to its easy deployment, light weight and unmatched protection.
3. Ready Your Hurricane Kit
If you live in Southwest Florida, you'll need to be prepared with a hurricane kit, which will include the supplies you'll need to get through a storm. Your hurricane kit should include items like canned food and water, flashlights with extra batteries, a first-aid kit and other helpful supplies. You'll also want to gas up the generator (if applicable) and remove any items from your yard. After all, anything can become a projectile with hurricane-force winds...even that innocent lawn chair.
When it comes to preparing for a storm's arrival, remembering this simple checklist can help immensely. And even if a hurricane doesn't affect us this year, staying prepared is imperative. Let's face it...weather is unpredictable, and you have to be ready for anything, especially during hurricane season.