Hurricane Season 2020 is right on our heels, and as more and more predictions and reports are released, we may be in for quite an active season. This means that you need to start getting ready for any disaster that heads our way, and we mean now. No more waiting until the official start of the season, which is June 1st. No more waiting until a storm is approaching. When it comes to hurricane preparedness, the earlier the better. We've already discussed getting your hurricane protection early, so let's move on to another important piece of the puzzle...your hurricane plan.
Here's another one of our hurricane preparedness tips...making your hurricane plan. Your life may very well depend on it.
Learn About the Various Types of Storms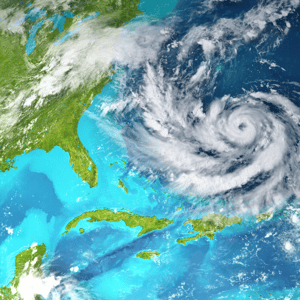 Not every storm that blows across our shores is going to be a devastating hurricane. There are a variety of storms that tend to grace us with their presence during this time of the year. These include:
Tropical Depressions: Surface winds of less than 39 mph, little damage.

Tropical Storms: Maximum sustained surface winds of between 39-73 mph, elevated damage possible.
And then there are the hurricanes:
Category 1: Wind speeds between 74-95 mph, very dangerous winds, some damage.

Category 2: Wind speeds between 96-110 mph, extremely dangerous winds, extensive damage.

Category 3: Wind speeds between 111-129 mph, devastating damage.

Category 4: Wind speeds between 130-156 mph, catastrophic damage.

Category 5: Wind speeds of 157 mph or higher, catastrophic damage.
In knowing the different types of storms, you're able to prepare accordingly. Not all storms will require you to evacuate the area, but some will. Knowing your storms will help you to prepare your home and your family properly.
Locate Your Hurricane Protection
Once you educate yourself on the various types of storms, your plan will begin by locating your hurricane protection and making sure that it is intact and ready to deploy. If your home came with hurricane shutters, now is the time to locate them and be sure you know where each shutter goes on your home, so that you can install them properly when a storm is on its way. If you don't have hurricane protection for your home, don't wait. Get in touch with a professional today, so that you can find the right product for your home.
Make Your Hurricane Kit
Once you've located your hurricane protection or have ordered adequate protection for your home, it's important to get some items together that will help you during a storm. Items to include in your hurricane kit are:
Non-perishable food

Water

Flashlights with extra batteries

Medical supplies

Gas (for generators, etc)
Getting these items early can help once a storm is approaching. Grocery stores will be emptied out quickly and gas stations will have lines around the block. This can cause many people to panic, but if you're prepared, you won't have to worry. Make your kit now, so that when a storm is on its way, you can focus on getting your home and family ready.
Know Your Evacuation Route
Another essential part of your hurricane plan is to know your evacuation route. If you are ordered to evacuate, do it. Don't try and stay in place, simply because you don't want to leave your home. Your belongings can be replaced. Your family can't. If you find yourself needing to evacuate, knowing the proper route and the locations of hurricane shelters along the way is imperative. Know this information now, so that you don't have to worry later.
Hurricane season can be a scary time, especially when you find that a storm is indeed heading right this way. In getting prepared now, you're able to ensure the safety of your home and family, so that when a storm is on the way, you know that you're ready for it.