The sheer force and devastation of a hurricane is something that is indescribable. Catastrophic damage, injuries and more can affect our region during storm time, which means being prepared should be of the utmost importance. Although it's still early in the year, it's the perfect time to start thinking about how you're going to protect your home and family this hurricane season. Don't wait until it's too late to protect what you love. As we ramp up to Hurricane Season 2020, which officially begins June 1st, let the pros help you with some tips along the way.

Our first hurricane preparedness tip is this...get your hurricane protection early!
Why Early Hurricane Preparedness is Important
Being prepared for what Mother Nature has planned for our area is extremely important, and now is the time to start getting your hurricane kit and other aspects of the home in order, especially your home's hurricane protection. In waiting until the last minute to find the very best hurricane protection for your home, you risk not ordering it in time and not being prepared when a storm is approaching. Ordering your hurricane protection when a storm is on the way will not help you, as chances are, you're not going to receive it in time. And in waiting to get your hurricane kit in order can mean not finding the necessary items you need to be safe.
Types of Hurricane Protection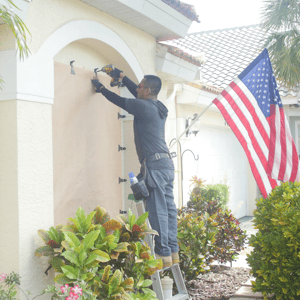 Opting for plywood or ill-fitting hurricane protection is a recipe for disaster and can do more damage in the long run. Improperly-fitted hurricane shutters can cause a build-up of pressure in the home, which can result in roof lift-off. This not only has the potential to cause immense damage to your home, it can impact the safety of your family as well.
That's why we recommend getting your hurricane protection early to avoid stress and worry later. In starting to get ready now, you're able to research the various hurricane protection products available and find the right product that matches your needs and your budget.
Top hurricane protection products on the market today include:
AstroGuard Hurricane Fabric
Rolldown hurricane shutters
Accordion shutters
If you are looking for a product that is easy to deploy and even easier to store, AstroGuard Hurricane Fabric may be the right choice for you. If you're wanting a product that is permanently installed on the home, you may want to look into rolldown and accordion shutters.
Your Next Steps
Start protecting your home now. This means getting your hurricane protection early and knowing how to deploy it when the time comes to use it. You'll want to get in contact with a reputable provider, so that they can accurately measure your windows and doors and place your order before it's too late.
The last thing you want to do is wait and not be protected come storm time. In getting started early in the year, you'll be ready to face whatever comes our way. Start making your hurricane kit and get in touch with hurricane protection professionals about other helpful tips in order to prepare for the worst. We've been through some of the worst storms Southwest Florida has ever seen and we know how devastating it can be. So, don't wait! Protect your home now, so that you won't have to worry later.