We're in the middle of it now. Hurricane Season 2018 has begun and if you remember anything about last year, you know that virtually anything is possible. Hurricane Irma made her debut in early September and some residences and businesses are still picking up the pieces from the devastating storm. When it comes to inclement weather here in Southwest Florida, preparation is key, and outfitting your home with proper hurricane protection is imperative. Today, we're here to shed some light on two popular hurricane protection products, hurricane fabric and rolldown shutters, to help you better choose the right fit for your home.
Benefits of Hurricane Fabric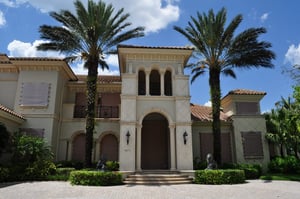 Hurricane fabric, namely AstroGuard Hurricane Fabric, is a resin-coated hybrid fabric that is attached to your windows via specialized clips. This light-weight fabric is more durable and easier to deploy than traditional hurricane protection and folds up seamlessly for easy storage. Along with being easy to work with, AstroGuard comes with its fair share of benefits, including:
Category 5 wind load tested
Florida Building Code & HVHZ approved (#12573)
Protection from 99% of wind, rain and flying debris
Translucent (allows light to filter through)
More affordable than other hurricane protection products
Limitations of Hurricane Fabric
Now, AstroGuard may not be for everybody. It all depends on what you're looking for in your unique situation. For homeowners who don't want to worry about deploying their hurricane protection, other options are available that are permanently installed on the home. Some homeowners don't want to break out the step ladder and screwdriver to install the fabric onto the clips, instead they want to know that their hurricane shutters are ready to go at storm time.
Benefits of Rolldown Shutters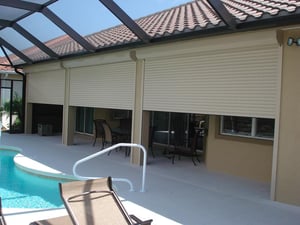 Rolldown shutters are also a top pick when it comes to hurricane protection. Permanently attached to your windows, these shutters are constructed of an extruded aluminum and are controlled by either a hand crank or a motorized system. They can be deployed from inside or outside of the home and can be rolled into any desired position. By being able to roll the shutters into any position, this can help control ventilation in the home.
Limitations of Rolldown Shutters
Just like AstroGuard, rolldown shutters may not be for every homeowner. Some homeowners want a product that is easily removed from the home, and one that doesn't give that cave-like feeling once they are rolled down. In addition, rolldown shutters are a more costly option when it comes to hurricane protection that can deter some homeowners.
Choosing the Right Hurricane Protection Product
When it comes to the right hurricane protection product, you really need to weigh your options and choose the product that meets your needs the best. If you're in the market for a product that is removable, yet easy to deploy when needed, AstroGuard Hurricane Fabric may be the right pick for you. However, if you want peace of mind, knowing that your hurricane shutters are always ready to deploy at a moment's notice, rolldowns may be for you. It all depends on what you're looking for, so be sure to choose wisely. After all, the safety of you and your loved ones is of the utmost importance during hurricane season.