Deciding to upgrade your current window treatments to custom plantation shutters is an exciting process. After you find the look that you want and take a tour of the facility that's going to be manufacturing these new additions, the anticipation awaits.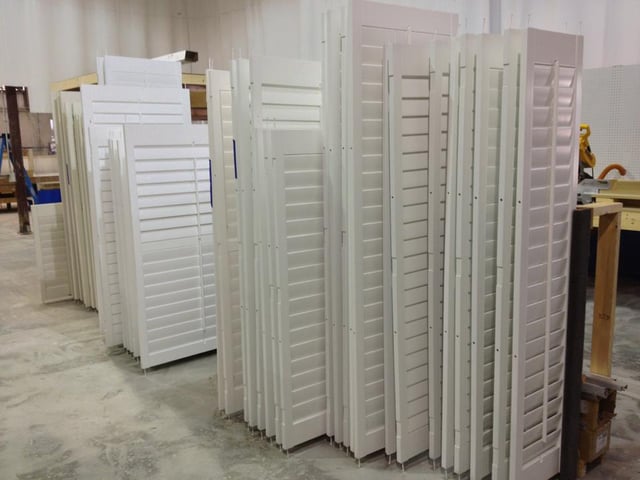 So while you're waiting for these beautiful, custom-made shutters to arrive to your home, what can you do to prepare for the installation? Here are a few tips from the experts.
Day Prior
To Installation
It's extremely helpful to clear the way for the installer to bring your new plantation shutters into your home. We understand that moving is a hassle. Boxes and furniture can be everywhere. Even if you've been in your home for years, a new project can turn your home upside down.
Your installer will need a 3 foot area around each window in order to install your shutters. Please remove any small or delicate items from your larger pieces of furniture. Don't worry, the installer will be sure to move those large pieces for you.
If possible, remove your existing window treatments. The installer can remove these for you, but there is a small upcharge.
Time For That Deep Clean
Let's not kid ourselves, cleaning the windows in some of those hard to reach spots isn't normally on our list of priorities. Many times, it's a pain to get up high or in tight spaces, and the dirt just builds up. Well, now's the time to get all cleaned up!
It's a good idea to clean the areas around where your new plantation shutters are going to be installed. Many people tend to hire a window cleaning company to come in and give their windows a deep clean, especially if they're high up and difficult to reach.
Day of Installation
At Naples Shutter, the installer will inventory all of the pieces for your job and the other jobs he will install that day. He will pre-cut your frames, load his truck, map his route, and set out. If requested, he will call you half an hour in advance of his arrival, so you can meet him at your home.
The installer will arrive and unload, having your shutters, unassembled frames, a saw, drill, and possibly a helper. He will then build a frame for each window or door getting plantation shutters (unless you choose a frameless shutter option), install the frame and the shutters. Then, he will level and adjust all shutters.
Finally, the installer will fill nail holes, smooth any rough edges, and touch up paint on the shutters and frames where necessary, leaving them shiny and perfect. He will show you how to properly operate your shutters and answer any questions you may have. Then he will pack up his materials, clean the area, complete the necessary paperwork, collect payment and be on his way.
After The Installation
The installer will leave a small jar of touch up paint and instructions on how to properly care for your new plantation shutters. And you'll have peace of mind knowing that service by Naples Shutter is available at any time. Once the installation is complete, all that's left to do is enjoy the clean, crisp look that plantation shutters give to your home.