Plantation shutters are one of the top window treatment products on the market today. Clean, crisp and elegant, these louvered shutters not only look amazing in the home, they also help provide privacy, lower energy bills and protect your belongings from fading in the sun. More and more homeowners are choosing to add plantation shutters to their home and with a multitude of customization options, we don't blame them! So, you may be asking yourself, "How can I customize my plantation shutters?" Let us tell you all about your options!
What are Plantation Shutters?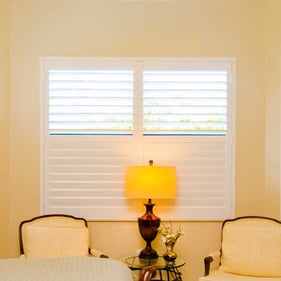 First off, the basics. If you're unfamiliar with plantation shutters, here's what you need to know. Plantation shutters are window treatments that are permanently installed on your windows. Traditionally white (but there are a variety of options for color…we'll get to that later), plantation shutters have slats, or louvers, that open and close to control how much of the outside world you let into your space. Plantation shutters come in many shapes and sizes, so let's start with how you can customize them to fit your space.
Plantation Shutter Louver Sizes
Now that we know what louvers are, it's time to pick the right size louvers for your shutters. The larger louver size you choose, the more light you will allow in the room when the louvers are tilted to the open position. The louver sizes that are typically offered are:
2 ½ inches
3 ½ inches
4 ½ inches
5 ½ inches
The 2 ½ inch louvers let less light in and provide a busier look when they are closed, since they are smaller and there are more of them, whereas the 4 ½ and 5 ½ options let more light in when opened.
Tiltrods & Framing Options
The tiltrod is the vertical bar that runs down the center of the shutter and is the device that operates the louvers. Simply take hold of the tiltrod and tilt it up to open the louvers and down to close them. Now, many homeowners want another option for operating their shutters, and this is where hidden tilt comes onto the scene. Instead of a tiltrod running down the center of the shutter, the mechanism is hidden behind the shutter. Gently push the louvers into their desired position to operate.
There are also many framing options when it comes to your shutters. Some homeowners choose a standard frame, while others will choose something more decorative to match the space.
Plantation Shutter Shapes & Colors
Now comes the fun part where you really get to customize the look of your plantation shutters. The amazing thing about manufacturing plantation shutters is the ability to construct them in many different shapes, including:
The list can go on depending on your needs. Color is also a great way to integrate plantation shutters into your home. Most homeowners choose white or off-white, since this is normally the color of the trim in the home. However, some clients want to stand out and choose bright colors, such as greens, blues and yellows. Virtually anything is possible. And don't forget that staining your shutters to match a piece of furniture is also an option.
Customizing Your Plantation Shutters
As you can see, there are many ways to customize your shutters from shapes to sizes to colors and more. That's what makes these window treatment products a top choice in the industry and seen in many Southwest Florida homes today. If you're looking for a quality, stylish window treatment product, look no further. Plantation shutters don't disappoint.