Plantation shutters are a superior choice when it comes to custom window treatments. Their clean, crisp, modern look is one that's hard to beat, making many homeowners gravitate toward their appeal. What you may not have known about plantation shutters is that they come in a variety of different materials and depending on where you're going to install your shutters, you may need a material other than wood. Let's chat today about the types of plantation shutter materials you may need to meet not only your look and budget, but also to ensure that they will last for years to come.
Custom Wood Plantation Shutters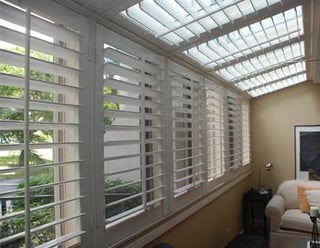 Hands down the most popular choice for plantation shutters, wood is used in most applications. Utilizing the finest hardwoods, wood plantation shutters are made from strong, durable wood selections. At Naples Shutter, we typically use two types of wood for our custom plantation shutters, poplar and basswood. Poplar wood is used for our painted shutters, while basswood is used for our stained shutters. Both types of wood are durable and beautiful, making for an impressive final product. Other benefits of wood shutters include:
Unlimited paint or stain choices
Specialty shapes available, such as archtops, ovals and sunbursts
Exotic wood types available, such as mahogany and maple
Although custom wood plantation shutters are very popular, there are some areas of the home where they just simply won't work. Areas prone to moisture will cause wood shutters to warp and become damaged over time. This is where you will want to consider another type of plantation shutter material.
Poly Plantation Shutters
Poly plantation shutters are a great choice for areas of the home that have a tendency to get wet, such as the bathroom or garage. Constructed of a durable synthetic material, poly plantation shutters look and function just like traditional wood shutters, except for the fact that they will be able to withstand moisture. Other benefits of poly plantation shutters include:
Resistant to warping and paint chipping
Customization options, such as sliders and midrails available
Durable and function well in moist areas
One of the drawbacks of poly plantation shutters is the fact that you don't have as many options when it comes to color. While custom wood plantation shutters can be painted virtually any color of the rainbow, poly plantation shutters are only available in white and off-white.
PVC Shutters
Another option that works well in wet conditions is the PVC shutter. Polyvinyl chloride (PVC) construction helps make this product durable and functional, especially in bathrooms and other areas prone to moisture. Other benefits of PVC shutters include:
Stainless steel hardware resists rust
Customization options available, such as with or without frames and two louver sizes
As with poly shutters, PVC shutters are limited when it comes to color selection. PVC shutters come in two color options, white and off-white.
Your Plantation Shutter Material Options
As you can see, it's easy to carry the sleek, clean look of plantation shutters throughout the entire home with the variety of different plantation shutter materials available. Plantation shutters are timeless, versatile and with the proper application and installation, can stand the test of time with little maintenance. Contact our experts to chat more about custom plantation shutters and the materials that will work best with your home. Call (239) 566-8161 or visit www.naplesshutter.com.