Surrounded by lush landscaping, manicured lawns and natural preserves lies a gated community like no other. Venetian-style bridges offer pristine views of the sparkling waterways, which run throughout the property, making this hidden gem in Naples not only impressive, but beautiful. With a focus on living a healthy lifestyle, this community features a unique approach to fitness with a host of exercise, nutrition and wellness options available, and with a variety of activities planned all year-round, you'll be sure to find what you're looking for here.

Welcome to Verona Walk...
About Verona Walk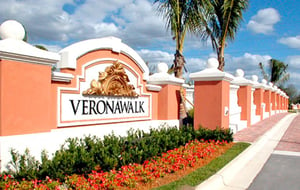 Verona Walk features a gated entrance that is manned 24 hours a day. Once through the gates of this gorgeous community, travel to the Town Center, which houses a number of unique rooms, such as a grand ballroom, library, computer center, function rooms, offices and a game room. Spend a moment catching up on the news or take advantage of one of the planned activities. Verona Walk also features a number of convenient amenities, such as:
Gas pumps
Post Office
Restaurant
Salon
Performing Arts Center
Bank
...and much more! You'll never have to leave the comforts of home when you live in this spectacular community!
Staying Active at Verona Walk
It's easy to stay active when you live at Verona Walk! With so many activities to choose from, you'll be sure to find something that sparks your interest. Verona Walk includes bocce courts, basketball courts, eight lighted clay tennis courts, temperature-controlled geothermal lap and resort pools, a lighted gazebo, tot lot playground and a state-of-the-art fitness center. Stay moving and active in this exquisite community, located just minutes away from some of the top rated restaurants and visitor attractions in all of Southwest Florida.
The Homes at Verona Walk
This lakefront community features luxury single-family homes, patio homes and town homes, built by DiVosta/Pulte Homes. Enjoy the coastal breezes and amazing sunsets from your back patio, while you take in all of what this outstanding community has to offer. Find the home that works for your unique needs here.
Why Verona Walk?
Embrace your Southwest Florida lifestyle. Be in close proximity to white sand beaches, perfect for fishing, swimming or lounging. Take advantage of some of the best golf courses in the country and simply enjoy the relaxed atmosphere and salty air here in Southwest Florida. Verona Walk residents also get to enjoy their resort lifestyle with no additional membership fee, and can be worry-free when it comes to lawn maintenance and irrigation.
Envision Yourself in Verona Walk
Access to convenient amenities and an abundance of activities greet you at Verona Walk. Stick close to home when you need to and venture out to enjoy the beautiful area when you desire. When you live at Verona Walk, you have access to it all. If you're considering a home here in Southwest Florida, consider Verona Walk. With a fabulous location that's private and meticulously maintained, you'll be happy that you chose to live here.
We're proud to have helped many Verona Walk residents find the perfect window treatments for their homes! Contact our experts to get started on your home today!