If you've ever dreamed of a world-class golf community, look no further than Tiburón. Featuring some of the most sought-after golf experiences in Southwest Florida, Tiburón is home to the LPGA Tour's CME Group Tour Championship, the PGA TOUR's QBE shootout and much more. In addition to spectacular golf games, residents can also expect a wide array of amenities, stunning homes, an abundance of activities and so much more. If you're looking for a place to call home in Naples, then Tiburón may just be it. Let's explore Tiburón in this month's community spotlight...

What Tiburón Has to Offer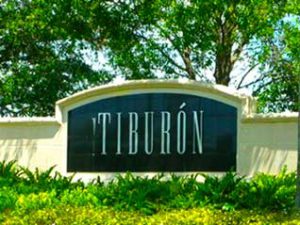 Perhaps the most popular amenity at Tiburón, if you haven't guessed it already, is the golf program. The Tiburón Golf Club features two 18-hole courses, designed by Greg Norman, named The Gold and The Black. Consistently ranked among Florida's top 20 golf courses, Tiburón's courses are not only breath-taking, they're challenging as well. The golf courses at Tiburón are designed to maximize natural elements, while helping players appreciate the fine aspects of the game.
Tiburón also offers several activities and amenities to stay active and fit, including tennis at the Ritz Carlton Golf Resort, a fitness center, a pool and spa, a state-of-the-art clubhouse and various dining options. As you can see, it's easy to stay busy when you live at Tiburón. Have access to some of the best golfing in Southwest Florida and enjoy the fabulous setting around you as you take in paradise.
The Homes at Tiburón
Tiburón contains a number of communities within it, catered to meet your unique needs. These communities include:
Escada
Marsala
Serafina
Norman Estates
Castillo
Marquesa
Bolero
Ventana
Ranging from beautiful homes to stunning condos, Tiburón has something for everyone, depending on your lifestyle. Be a part of the ultimate living experience in one of Naples' most prized communities, take in a challenging game of golf on a world-class course or savor the flavors at one of the dining establishments just moments away from home.
Tiburón Accommodations
Want to get away from it all without leaving your community? Residents of Tiburón are fortunate enough to share space with the Ritz Carlton Golf Resort, which features old world charm, paired with country club sophistication. Considered one of the finest and most beautiful resorts in Florida, the Ritz Carlton Golf Resort offers luxurious accommodations, Mediterranean-style décor and lavish amenities to get the most out of your stay.
Living at Tiburón
When you live at Tiburón, you not only have access to some of the most favorable amenities in all of Southwest Florida, you have your choice of a beautiful home or spacious condo and so much more. With a convenient location, close to shopping, beaches, restaurants and more, Tiburón helps you stay close to the action, while providing you with the level of privacy that you desire. When you're looking for your next home in sunny Southwest Florida, you may find that Tiburón does, in fact, have it all.
Naples Shutter enjoys helping the residents of the Tiburón communities with all of their window treatment needs! Call (239) 566-8161 to get started with our team of professionals today!