Sienna Reserve is one of Naples' newest luxury communities and is destined for greatness. Positioned on 30 acres of pristine land, this beautiful community is located just a short drive from the best that Southwest Florida has to offer, such as luxury shopping, fine dining and gorgeous white sand beaches. So, step into Sienna Reserve and see why it may be the next destination you call home.
Sienna Reserve: The Community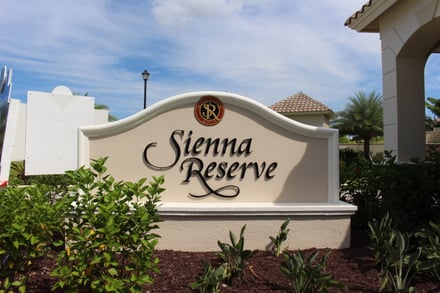 Situated on 16 acres of nature preserve and centered around a freshwater lake, Sienna Reserve is the newest luxury community in Naples. Elegant, state-of-the-art homes are nestled between untouched preserve, and you're welcomed into the gates by a lush garden and waterfall. Surrounded by beauty, Sienna Reserve has it all from its close proximity to Naples nightlife and A-rated schools to its sheer elegance inside the gates.
Sienna Reserve: The Homes
Only 45 homes grace this small community and are available in one or two-story options with a lake or preserve view. Superior architecture and world-class design are to be expected in a community like Sienna Reserve, and all homes include top quality finishes and custom features. Elegance reigns here with exceptional design, engineering and construction. Other features found in the homes at Sienna Reserve are:
Volume ceilings
Travertine window sills
Custom built-in master closets
Security alarm system with smart technology
Impact glass on all windows and doors
Steel reinforced concrete block construction
Coach lighting
10-year home warranty
These features come standard in every home in this exquisite community.
Sienna Reserve: Floorplans
There's something for everyone at Sienna Reserve, whether you're looking for a home for your family or a retirement getaway. Choose from a one-story Poinciana model with three bedrooms and two and a half baths, two garages and a study, or opt for a two-story Jasmine model with five or six bedrooms, five or six baths and two garages. Other models available include the Hibiscus (one or two-story), the one-story Jasmine, Magnolia and Magnolia Flex and the Rosewood.
Sienna Reserve: The Perks
One of the perks of living in Sienna Reserve is the close proximity to the world-renowned Tiburon Golf Club. Every homeowner at Sienna Reserve is eligible to receive complimentary privileges to the many amenities at Tiburon while their home is being built. Although temporary, these amenities are highly sought after and once your home is completed, you may be able to purchase a social or golf membership at Tiburon, an offer normally only available to Tiburon community members.
Sienna Reserve: The Life
Making your way through the lush landscaping and around the fountains that don the roundabouts, Sienna Reserve will make you feel right at home. Enjoy the views of the nature preserve and the lake and be close to shopping, dining and beaches all in one community. Choose the home of your dreams and customize it to meet your needs. At Sienna Reserve, anything is possible.
Let the experts at Naples Shutter help you with all of your window treatment needs! Call (239) 566-8161 or visit www.naplesshutter.com to get started with us today!