Wake up to ocean breezes and salty air. Have a front row seat for some of the best sunsets in the world. Take in the stunning views of the Gulf of Mexico right outside of your window and relish in the serene setting of clear water and white sand beaches.This is one of Marco Island's premiere beach resorts.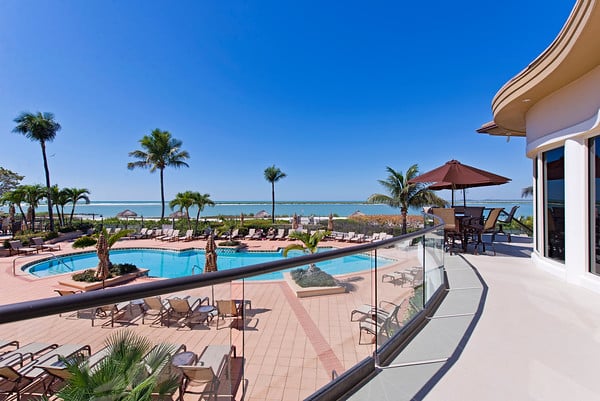 This is Hideaway Beach Club.
Coastal Living at Hideaway Beach Club
Hideaway Beach Club is a private, gated community on Marco Island that sits on more than 300 acres. Devoted to the preservation of nature, wetlands and conservancy make up half of the property, housing the world's largest concentration of native Florida Live Oak trees. Embrace the beauty of Florida wildlife everyday. Residents of Hideaway Beach can expect plenty of opportunities to capture nature from the boardwalks to the natural lagoons, to the shelling and fishing.
Active Living at Hideaway Beach Club
Tennis, golf, bocce and croquet are just some of the ways to stay active at Hideaway Beach. The Sports Center is home to a number of activities for residents to stay fit and healthy, including a fully-equipped fitness center with cardio stations, Cybex strength training machines and much more. Nine HyrdroGrid Har-Tru tennis courts, regulation-sized croquet court and a nine-hole executive golf course surround the 13,000 square foot sports complex.
Need to relax? Steam rooms and therapeutic massage make living at Hideaway Beach simply blissful. Schedule a massage and feel all of your worries melt away.
Enjoy Your Surroundings
Hideaway Beach sits on over two miles of beachfront, overlooking the Gulf of Mexico, so finding a spectacular view is no problem. Enjoy nature studies along the boardwalks, bird watching or take a kayak out to explore even more.
Hideaway Beach takes the preservation of nature very seriously, with the Architectural Review Committee overseeing all construction changes to the property. The ARC maintains the pristine and natural setting, and no project is started before the ARC approves. Just another reason Hideaway Beach is so breathtaking.
Your Home At Hideaway Beach Club
Single family homes, condominiums, beach villas and buildable lots offer residents a choice of how they'd like to live at Hideaway Beach. The Clubhouse offers residents the amenities desired for a fulfilling social life.
With a committed dining staff, residents have many options, from outdoor meals at the Sand Bar to drinks at the Sunset Lounge. Five-course meals are offered in the Grille Room and Gulfview Room, and socializing is encouraged throughout. Get to know your neighbors at social gatherings and events, or host your own event. Whichever you choose, the dedicated staff is there for you.
Escape at Hideaway Beach Club
Whether you want to relax on the deck with a cocktail, watching the sunset or play a hand of bridge, Hideaway Beach Club has what you're looking for. Where else can you find brilliant scenery and all of the priceless amenities all in one place? Nowhere else, like Hideaway Beach Club.
Naples Shutter is proud to have worked with residents of the Hideaway Beach Club, and look forward to helping more families find the right window treatments for their home. Visit us to find out how we can help.