Let's be honest...there are a lot of different options for window treatments out there nowadays, and what works for some may not work for others. Maybe you don't like the look of shutters or draperies. Maybe you want something that complements your room, and doesn't break the bank.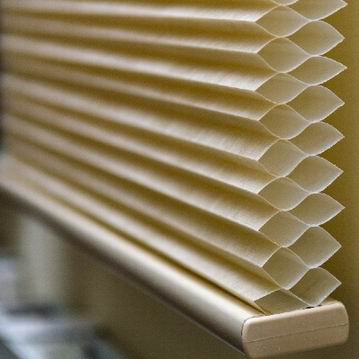 With that in mind, you may want to take a look at cellular shades. They might just be what you've been looking for…
Cellular Shades: What Do They Look Like?
Cellular shades are made from a pleated fabric, giving them a honeycomb appearance. They come in a variety of options and can provide a great deal of benefits to your home. Cellular shades are extremely popular, not only for the great look that they give to the room, but also for their affordability.
Why Cellular Shades?
Lightweight and easy to operate, cellular shades are a great addition to any room. Their pleated appearance adds a level of texture to the room, and the variety of colors make it a versatile window treatment for any space.
What Are Some Of My Options?
The great thing about cellular shades is that you can pick and choose how you want your shade to be designed from fabric options to operation. For example, your shade can open and close horizontally or vertically, you could add more fabric layers to each honeycomb compartment to increase energy efficiency, or you could add a top-down, bottom-up option.
Cellular shades come in hundreds of fabric choices, so choosing a fabric to match your home is easy. You can also choose your sheerness, based on the needs of the space.
What Are The Benefits of Cellular Shades?
With cellular shades, you have the option of a single, double, or triple layer of fabric in each honeycomb portion of the shade. These compartments trap the air, providing insulation in your home, helping to save money on your energy bills.
Being able to choose the sheerness of your shade can also protect your furniture and valuables from sun damage. Choose a light-filtering shade for your living room and protect your furniture and carpeting from fading.
Another great thing about cellular shades is that when raised completely, it's like they're not even there. You have full visibility out of your window, letting you enjoy the great view around you.
To Recap…
Cellular shades are an extremely popular window covering. Their durability, easy installation and effortless operation make them a top choice for homeowners everywhere. To recap, here are some of the perks of choosing cellular shades:
Hundreds of fabric & color options

Horizontal and vertical operation

Top-down, Bottom-up Option

Lightweight & easy to operate

Durable & energy efficient

Cost-effective

Your choice of sheerness
Cellular Shades: The Choice For You
Choosing a window treatment that works with both your home and your budget can be challenging. With all of the benefits and choices that you get with cellular shades, it's no wonder why more and more people are choosing them for their homes. If you want a product that works in any space and is effortless to use, cellular shades might just be the right choice for you.