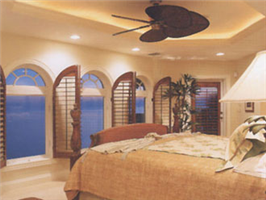 With a little bit of care and maintenance, your plantation shutters will provide a lifetime of beauty and carefree operation. Follow these guidelines to keep your shutters looking and working like new for years to come.
1: PARTS OF THE SHUTTER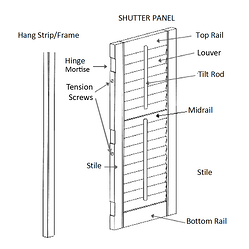 Shutter Panel: complete shutter, swings open/closed on hinges
Hang Strip/Frame: frame added to window opening on which to mount shutter
Hinge Mortise: recess for hinge placement
Tension Screws: used to adjust tightness of louvers
Stile: vertical frame of shutter
Top Rail/Bottom Rail: horizontal frame of shutter
Louver: blade that tilts open/closed
Tilt Rod: mechanism connecting the louvers together
Midrail: divider that allows the top and bottom louvers to operate independently
Staples: attach tilt rod to louvers
2: CLEANING
To clean your plantation shutters,
dust regularly with a soft cloth or feather duster
. Spot clean with a damp cloth when necessary.
3: OPENING & CLOSING
Never pull the shutter panels open using the tilt rod
—this can pull out the staples and damage the shutter. To swing the panels open, tilt the louvers open, grasp the panel by the stile and tug open.
Archtop shutters
: archtop shutters are designed for the louvers to close in the "up" position only—never down.
Closing the louvers down on an archtop shutter will break the louvers.
4: TIGHTENING & LOOSENING LOUVERS
If your louvers are "floppy" and will not stay open in the desired position, or if they are too tight and difficult to tilt, there is a very simple solution.
With a Phillips head screwdriver, adjust the tension screw
found on both sides of the shutter panel. A quarter turn to the right will tighten and a quarter turn to the left will loosen. It is important to adjust the tension screws equally on both sides of the shutter.
5: PAINT SCRATCHES
If paint is accidentally scratched or chipped, use a small foam brush and the touchup paint provided by Naples Shutter at the time of installation. If you do not have touchup paint, check your contract for the paint color or call Naples Shutter at (239) 566-8161 and we will look up the color for you.
In most homes, the shutter paint is the same as the interior trim paint.
Extra paint can be purchased at your local hardware store.
6: YOUR WARRANTY
Wood plantation shutters manufactured by Naples Shutter are covered under a Limited Lifetime Warranty. A copy will be delivered to you at the time of installation, or a copy can be obtained here or by calling Naples Shutter at (239) 566-8161. The warranty covers the manufacturing integrity of the shutters and does not cover abuse, misuse, normal wear and tear or exposure to water.
Warranty claims reported within one year of installation will be serviced free of charge. Warranty claims reported after one year are subject to a service call fee, currently $75.00. Please report any findings to Naples Shutter as soon as possible so we can get your shutters working properly for your enjoyment.
7: WHEN TO CALL FOR SERVICE
Naples Shutter has a team of expert technicians ready to serve you at any time. If you experience any of the following issues, please call us and we will be happy to address them:
Broken or damaged louvers
Staples coming out
Panels not opening/closing properly
Sliders not operating correctly
Please remember that warranty issues reported more than one year after installation will be subject to a service call charge.
We truly appreciate your business and want you to have many years of enjoyment from your shutters. Please let us know how we can help. Thank you.