This year may have gotten off to a strange start. With the emergence of the COVID-19 pandemic and the uncertainty that it has brought with it, you may have more things on your mind right now than usual. But, as we all try to navigate through this difficult time, Hurricane Season 2020 is lurking in the background. And true to this year's theme of being a little more stressful than most, Hurricane Season 2020 predictions are no different. Experts are predicting above average storm activity this year, which means it's time to start getting prepared. With all the things that are going on right now, the last thing you may want to even think about is a hurricane, but that's not going to stop Hurricane Season from arriving soon. That's why it's best to be protected and be prepared.
Here's an early prediction of Hurricane Season 2020...
Hurricane Season 2020: The Storms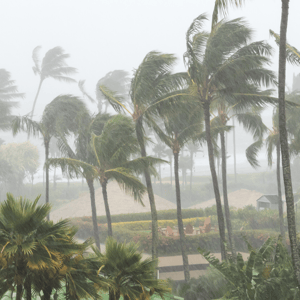 Hurricane Season doesn't officially begin until June 1st; however, now is a crucial time to ensure that you're starting to put this dreaded season into your mind. With 14-18 tropical storms predicted to form in the Atlantic Ocean this season, seven to nine are forecasted to become hurricanes...two to four of these are expected to become major hurricanes. Names for the predicted storms are already prepared and include:
Arthur

Bertha

Dolly

Hanna

Kyle

Laura

Marco

Paulette

Vicky
Category 3 and higher is considered a major hurricane, meaning that wind speeds can be expected to exceed 111 mph. Hurricane Irma, which was the last significant storm to hit Southwest Florida reached a wind speed of 177 mph, causing catastrophic damage and devastation to our area.
How Experts Predict Storm Seasons
Forecasters utilize comparison modules from previous years' storms to formulate a prediction for the current year. They also take other factors into consideration when predicting storm seasons, including water temperatures and how early in the year warm water temperatures occur. You see, hurricanes form as a result of warm, moist air in high pressure areas. The warm, moist air combines with cool air to form storm clouds. This is why the warmer the temperature of the water, the greater chance there is for a storm to form.
How to Prepare
The best course of action at this time is to start taking action. It's still early enough to start getting your home and family prepared for the worst. In addition to the current health crisis, residents of Southwest Florida will need to start getting ready for the inevitable. Hurricane Season, which runs from June 1st until November 30th, is a time where Floridians batten down the hatches and prepare for whatever inclement weather comes our way. Don't wait until it's too late to get yourself ready. Experts recommend starting as soon as possible to ensure that you have adequate hurricane protection, a hurricane kit and a plan of action in place.
If you're uncertain about how to prepare for Hurricane Season 2020, let our experts help to guide you in the right direction. With decades of experience in the hurricane protection industry, our team can help you protect your home and family from the dangers of a storm.