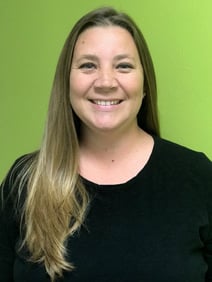 Naples, Florida, May 9th, 2017—Plantation shutter manufacturer, Naples Shutter welcomes a new member to its team this year. Amy Hamilton joins the talented group of Naples Shutter employees in the scheduling department. Naples Shutter has been providing plantation shutters, blinds and shades, exterior shutters and hurricane protection for over 35 years to the residents of Southwest Florida.
Hamilton, a native of Rock Springs, Wyoming has been living in Naples since she was a child. Previously a pharmacy technician for 12 years, Hamilton furthered her career in the healthcare industry as a staffing coordinator for home health agencies. It was in this role that she polished her scheduling skills by being responsible for client and caregiver schedules throughout the agency. She joined the Naples Shutter team in March of this year, allowing her to continue in this scheduling role. When she's not working, you can find Hamilton and husband, Kurt cheering on their three children at baseball and softball games, as well as horseback riding.
For the past 35 years, Naples Shutter (www.naplesshutter.com) has established itself as a go-to source for window treatments in the area and throughout the country. With all of its plantation shutter products made in the USA, Naples Shutter prides itself on quality craftmanship, expert installation and top-notch customer service. Brian Trecek, Co-Owner of Naples Shutter is happy to welcome Hamilton to the growing team.
"Amy [Hamilton] brings years of experience in scheduling and customer service to the table, and we're excited to have her onboard. I'm looking forward to watching her grow with us throughout the years," he says.
Hamilton is also looking forward to the future with the Naples Shutter team.
"Being able to delve into something that I love to do every day is a great feeling. This is the perfect job for me," she says.
About Naples Shutter
Proudly serving Southwest Florida and beyond since 1981, Naples Shutter's philosophy of Quality, Experience and Value has helped the company serve over 40,000 clients. With a state-of-the-art factory and a team with over 180 years combined experience, Naples Shutter provides fine quality products and expert installation.
To learn more about Naples Shutter, please contact Brian Trecek at (239) 566-8161 or email info@naplesshutter.com. Also, please visit www.naplesshutter.com for more information.