Naples, Florida, July 17th, 2019-- Naples Shutter, a prominent hurricane protection supplier in Southwest Florida announces that it will team up with Pinckney Partners for this year's hurricane season. Naples Shutter has been a staple in the area for decades, not only providing clients with custom window treatments to meet their needs, but also supplying them with the very best hurricane protection products in the industry.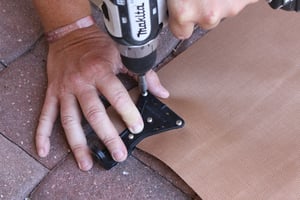 Pinckney Partners aids the Naples Shutter team in the deployment and removal of their signature hurricane product, AstroGuard Hurricane Fabric. AstroGuard is a durable resin-coated hybrid fabric, which is custom-fitted to each window and attached with specialized clips. The team at Pinckney ensures that all of the fabric is attached to the clients' windows properly and arranges for removal once a storm has passed. They are an essential part of the Naples Shutter hurricane team, making sure that all clients are safe in inclement weather. Led by Walter Pinckney, the team also specializes in other areas of home improvement, including pressure washing, grout cleaning, interior and exterior painting, paver sealing and lawn maintenance.
Naples Shutter (www.naplesshutter.com) offers an arsenal of hurricane protection products to their customers, including AstroGuard Hurricane Fabric, one of their best-selling products, as well as accordion and rolldown hurricane shutters. Brian Trecek, Co-Owner of Naples Shutter, speaks about the importance of being protected at storm time and how Pinckney is an asset to the company.
"I can't stress enough about the importance of having proper hurricane protection for your home, especially during this time of the year. We've seen a lot of devastation, not only from those who didn't have any hurricane protection, but from those who had ill-fitting products. Pinckney helps our team make sure that when a storm is on its way, our clients are protected properly," he explains.
About Naples Shutter
Proudly serving Southwest Florida and beyond since 1981, Naples Shutter's philosophy of Quality, Experience and Value has helped the company serve over 40,000 clients. With a state-of-the-art factory and a team with over 180 years combined experience, Naples Shutter provides fine quality products and expert installation. In addition to hurricane protection, Naples Shutter also provides custom plantation shutters, blinds and luxury shades to its clients across the country.
To learn more about Naples Shutter, please contact Brian Trecek at (239) 566-8161 or email info@naplesshutter.com. Also, please visit www.naplesshutter.com for more information.