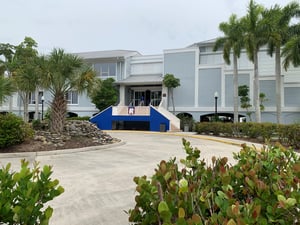 Punta Gorda, Florida, July 10th, 2019-- Southwest Florida plantation shutter manufacturer and hurricane protection supplier announces that its team will provide lunch to the last living WWII veteran at the Military Heritage Museum in Punta Gorda this month. For over 38 years, Naples Shutter has been providing top-quality window treatments to the residents of Southwest Florida and beyond, emphasizing superior customer service, expert installation and a top-of-the-line product selection, manufacturing its shutters in its Naples factory.
Brian Trecek and Robert Riggs will be preparing a meal of ribs and pulled pork to honor Bob Wollitz, who will be celebrating his 90th birthday. The Military Heritage Museum features more than 20,000 artifacts, honoring the history of the brave men and women who have served our country. The museum is run by military veterans with personal stories to go along with many of the exhibits showcased in the museum, which honor the valor and courage of the American Soldiers, Marines, Sailors, Airmen and Coast Guardsmen. Both Trecek and Riggs enjoy visiting the members of the Military Heritage museum with Riggs being a volunteer of the museum for many years.
Naples Shutter (www.naplesshutter.com) is no stranger to the community, sponsoring many events and donating proceeds to benefit many local charity organizations. Trecek speaks about giving back to the members of the Military Heritage Museum.
"It's always an honor to sit and talk with the men and women who have been through to much so that we can enjoy the freedoms that we have today. It's just a token of our appreciation to honor Bob and celebrate his birthday and the work that the museum does in honoring our veterans," he says.
Amy Huddleston, Program Specialist with the museum, speaks about what this act of kindness means for our veterans.
"We are so fortunate and grateful to have your support. Your contribution to this museum not only provides critical support for our organization, but also underscores your deep commitment to our brave men and women who unselfishly protect the freedoms of all Americans," she says.
About Naples Shutter
Proudly serving Southwest Florida and beyond since 1981, Naples Shutter's philosophy of Quality, Experience and Value has helped the company serve over 40,000 clients. With a state-of-the-art factory and a team with over 180 years combined experience, Naples Shutter provides fine quality products and expert installation. In addition to hurricane protection, Naples Shutter also provides custom plantation shutters, blinds and luxury shades to its clients across the country.
To learn more about Naples Shutter, please contact Brian Trecek at (239) 566-8161 or email info@naplesshutter.com. Also, please visit www.naplesshutter.com for more information.