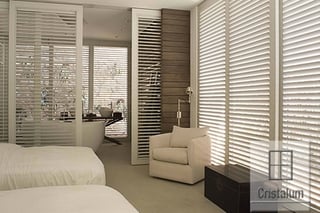 Naples, Florida, January 10th, 2017—Local plantation manufacturer, Naples Shutter introduces Cristalum shutters, a new line of indoor/outdoor plantation shutters, resistant to rain, UV rays and the elements. Located on Power Street in Naples, Naples Shutter has been paving the way with innovative products and ideas since 1981.
Composed of extruded aluminum, Cristalum shutters offer protection from the sun's UV rays, increased ventilation and repel insects and other bugs when installed outside. Versatile and stylish, Cristalum shutters can be utilized both indoors and outdoors and are durable enough to stand up to sun, rain and other elements here in Southwest Florida. Unlike traditional plantation shutters, Cristalum shutters won't warp when wet, so they are a popular pick for moisture-prone areas, such as outdoor patios, lanais and bathrooms.
Another perk of Cristalum shutters is that they come with an insect screen to help repel insects and other pests, making the outdoors more enjoyable. Cristalum shutters are powder coated and cured, which adds an extra layer of protection from the elements, and their faux wood finish offers a sleek, modern look to complement any room.
Naples Shutter (www.naplesshutter.com) has been a staple in window treatments, hurricane protection and more to the residents of Southwest Florida and beyond for over 35 years. Brian Trecek, Co-Owner of Naples Shutter is excited for the new addition of Cristalum shutters to their line of product offerings.
"Being able to offer our customers something so versatile and durable is great. Not only can you achieve the look you want, you now have the option for more functionality and more opportunities to have plantation shutters virtually anywhere in your home," he says.
About Naples Shutter
Proudly serving Southwest Florida and beyond since 1981, Naples Shutter's philosophy of Quality, Experience and Value has helped the company serve over 40,000 clients. With a state-of-the-art factory and a team with over 70 years combined experience, Naples Shutter provides fine quality products and expert installation.
To learn more about Naples Shutter, please contact Brian Trecek at (239) 566-8161 or email info@naplesshutter.com. Also, please visit www.naplesshutter.com for more information.
Contact
Naples Shutter, Inc.
Brian Trecek
(239) 566-8161
Info@naplesshutter.com