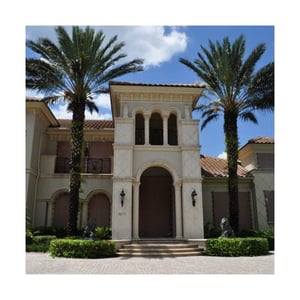 Naples, Florida, September 6th, 2018-- Local hurricane protection provider and plantation shutter manufacturer, Naples Shutter reports a record number of AstroGuard Hurricane Fabric sales. Since 2008, they have reported almost 1000 sales of the popular hurricane fabric to residents of Southwest Florida and beyond. Naples Shutter has been providing hurricane protection and various window treatment options to clients for over 37 years.
One of the most popular hurricane protection products on the market today, AstroGuard Hurricane Fabric is constructed of a resin-coated hybrid fabric that is more durable, more affordable and easier to deploy than other hurricane products available. AstroGuard blocks out 99% of wind and rain, is Category 5 wind load tested and is Florida Building Code and HVHZ approved (#12573). Weighing just ounces per square yard, AstroGuard has a proven track record and outranks plywood, rolldowns and accordion shutters when it comes to protection from wind, rain and flying debris.
In addition to hurricane protection, Naples Shutter (www.naplesshutter.com) also manufactures plantation shutters and provides other types of window treatments, including blinds, shades and specialty shutters. Providing clients with top quality materials, excellent customer service and skilled craftsmanship and installation, Naples Shutter is a top pick when it comes to window treatments in Southwest Florida.
Co-Owner, Brian Trecek, explains why AstroGuard Hurricane Fabric is one of their top selling products today.
"When it comes to a devastating hurricane, like Irma, you need protection that is proven to work. In all of our clients who we outfitted for AstroGuard, we received not one report of it failing. This is huge. Not only is AstroGuard easy to work with, it works, period. And that's the most important thing," he says.
About Naples Shutter
Proudly serving Southwest Florida and beyond since 1981, Naples Shutter's philosophy of Quality, Experience and Value has helped the company serve over 40,000 clients. With a state-of-the-art factory and a team with over 180 years combined experience, Naples Shutter provides fine quality products and expert installation. In addition to hurricane protection, Naples Shutter also provides custom plantation shutters, blinds and luxury shades to its clients across the country.
To learn more about Naples Shutter, please contact Brian Trecek at (239) 566-8161 or email info@naplesshutter.com. Also, please visit www.naplesshutter.com for more information.