Naples, Florida, September 21st, 2017—Naples Shutter, a local plantation shutter manufacturer and provider of hurricane protection across Southwest Florida releases ten facts about AstroGuard Hurricane Fabric, a popular means of hurricane protection. Naples Shutter is pleased to announce that in the wake of Hurricane Irma, they have received zero reports of AstroGuard failure. In fact, Naples Shutter deployed AstroGuard Hurricane Fabric during the hurricane on their factory and it came out unscathed. Here are ten facts about the fastest growing hurricane protection product on the market.
1: What is AstroGuard Hurricane Fabric?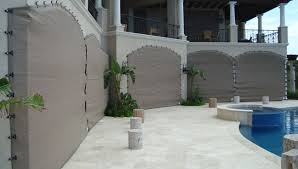 AstroGuard is a nylon hybrid fabric that is placed over your windows, doors, garage and lanai/patio openings to protect your home during a hurricane. Its high-strength fibers are woven and resin-coated, making it incredibly STRONG and SAFE. AstroGuard defends against wind, water, and flying debris in excess of the Category 5 hurricane level.
2: Does it Really Work?
Absolutely. AstroGuard protects your home better than metal panels, clear panels, plywood, roll-downs and more. Wanna see for yourself? Click here to see test lab footage of large missile impact tests and see how AstroGuard outperforms the competition.
3: Is it Florida Building Code Approved?
Yes. AstroGuard has passed the rigorous testing necessary to gain Florida Building Code approval (#15208). It is also approved for use in High Velocity Hurricane Zones by the State of Florida, which includes all Miami/Dade counties.
4: How Strong is AstroGuard?
Well, AstroGuard is 55% stronger than most other hurricane fabrics (and half the cost, too). And, with a burst strength of well over 1,500 lbs., AstroGuard easily outranks hurricane shutters like metal panels, rolldowns, accordions, and other traditional hurricane systems.
5: Is it Expensive?
Believe it or not, AstroGuard is one of the LEAST expensive hurricane protection systems available. Stronger, safer, more affordable, and easier to deploy. These are the reasons why AstroGuard is the NEXT GENERATION of hurricane protection.
6: Will AstroGuard Satisfy my Homeowner's Insurance?
These days, many insurance companies are requiring homeowners to install approved hurricane protection. This reduces claims to the insurance carrier and protects homeowners from storm damage. AstroGuard is fully recognized and approved by major insurance companies such as Chubb, Citizens (Florida), Fireman's Fund, and many others. Some clients have seen rate reductions of up to 40% on their policies by installing AstroGuard.
7: Is it Hard to Put Up?
No. Weighing only ounces per square yard, AstroGuard is easy to deploy at storm time. All you need is a Phillips screwdriver. You will never have to wrestle heavy, sharp metal panels again!
8: How do I Store AstroGuard?
AstroGuard folds up neatly into its own storage bags, taking up very little room in an attic, storage unit or garage.
9: Does it let Light Through?
Yes. AstroGuard is translucent, so it lets light in through your windows, doors and lanai. Say goodbye to the "cave" feeling of traditional shutters.
10: How do I Find out More?
Call your Naples Shutter Sales Representative at (239) 566-8161. We will come to your home to give you a FREE ESTIMATE and answer any other questions you have. Our professional installers handle everything from start to finish, giving you a worry-free hurricane season.
Brian Trecek, Co-Owner of Naples Shutter (www.naplesshutter.com) weighs in on AstroGuard Hurricane Fabric and what customers can expect with this product.
"We have received so many calls from clients who have metal panels that tell us that they'd never use them again. AstroGuard is not only rigorously tested, it's easy to deploy and more affordable than the competition. Customers can have peace of mind, knowing that their homes are protected by the best product on the market," he says.
About Naples Shutter
Proudly serving Southwest Florida and beyond since 1981, Naples Shutter's philosophy of Quality, Experience and Value has helped the company serve over 40,000 clients. With a state-of-the-art factory and a team with over 180 years combined experience, Naples Shutter provides fine quality products and expert installation. In addition to hurricane protection, Naples Shutter also provides custom plantation shutters, blinds and luxury shades to its clients across the country.
To learn more about Naples Shutter, please contact Brian Trecek at (239) 566-8161 or email info@naplesshutter.com. Also, please visit www.naplesshutter.com for more information.