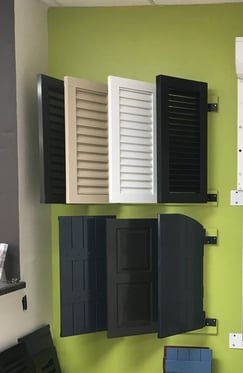 Naples, Florida, June 13th, 2017—Naples Shutter, a local manufacturer and provider of plantation shutters and window treatments announces its new line of exterior shutter styles, including the 1" Blade, 2" Blade, Z Blade, Board & Batten and Raised Panel. Naples Shutter has been serving the residents of Southwest Florida and beyond since 1981 and is located conveniently on Power Street in Naples.
Exterior shutters add architectural appeal, color and style to the home and also help to protect it from weather elements, while offering energy savings. Along with the 1" Blade and the 2" Blade, the Z Blade configuration is among one of the most economical choices for exterior shutters and is ideal for narrow windows. Constructed from extruded aluminum, the stationary blades offer light and visibility to the home. Inspired by the Mediterranean, the Board & Batten style is constructed out of light-weight, decay-resistant wood and adds a classic touch to many homes in Southwest Florida. Lastly, the Raised Panel configuration adds sophistication and old world style with its solid wood look.
Naples Shutter's (www.naplesshutter.com) exterior collection enhances beauty and efficiency in the home. Blocking damaging UV rays, reducing energy bills and increasing the resale value of your home, exterior shutters are a key element, not only for curb appeal, but for functionality. Naples Shutter also manufactures custom plantation shutters, provides luxury blinds and shades and offers a number of hurricane products, including AstroGuard Hurricane Fabric to loyal clients in Southwest Florida and across the U.S. Co-Owner, Brian Trecek weighs in on how these new configurations will help in the home.
"We're excited to be able to offer more of a variety of exterior shutter styles to our clients, both to help provide a more polished look for the home and also to help with energy efficiency. Exterior shutters are a great addition to the home and now come in so many options, you'll have no trouble finding the style that works for you," he explains.
About Naples Shutter
Proudly serving Southwest Florida and beyond since 1981, Naples Shutter's philosophy of Quality, Experience and Value has helped the company serve over 40,000 clients. With a state-of-the-art factory and a team with over 180 years combined experience, Naples Shutter provides fine quality products and expert installation.
To learn more about Naples Shutter, please contact Brian Trecek at (239) 566-8161 or email info@naplesshutter.com. Also, please visit www.naplesshutter.com for more information.