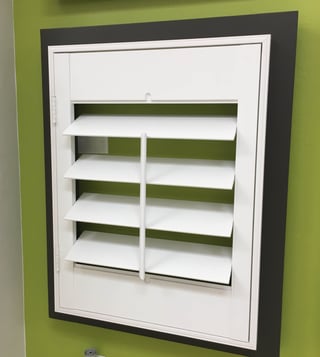 Naples, Florida, April 20th, 2017—Naples Shutter, a local plantation shutter manufacturer in Naples announces that a new louver size is now available to customers. The company introduces the 5 ½ inch louver size to its selection of plantation shutters, which joins the traditional 2 ½ inch louver, 3 ½ inch louver and the more contemporary 4 ½ inch option. Naples Shutter has been providing custom window treatments throughout Southwest Florida and beyond for over 35 years.
The louvers, or slats of the shutter, operate by tilting open to let light in, or closed to allow privacy in the home. Naples Shutter (www.naplesshutter.com) adds the 5 ½ inch style to its selection to give customers more options when it comes to designing their custom window treatments. The bigger louver size offers a more contemporary look, catering to the coastal transitional and modern home design trends, while providing more visibility when in the open position. As more and more homes are adopting the modern style, windows are getting much larger, offering better views to homeowners. The 5 ½ inch louver option will help homeowners enjoy their views even more.
Another benefit of 5 ½ inch louvers is the idea of more privacy and greater protection from the sun's harmful UV rays. With bigger louvers, there are less light gaps, which aids in the protection of furniture, artwork and other valuable items from fading. Naples Shutter has been a pioneer in many aspects of the window treatment industry, and Co-Owner, Brian Trecek, explains what this new offering means to the company's valuable customers.
"By being able to offer a variety of options to our customers, it gives each project we do a more customized and unique look. It brings the idea of traditional plantation shutters, which are a staple here in Southwest Florida homes, with the ever-growing popularity of the modern design that many interior designers are incorporating into homes. With 5 ½ inch louvers, customers now have the ability for more privacy and better views. It's the best of both worlds," he explains.
About Naples Shutter
Proudly serving Southwest Florida and beyond since 1981, Naples Shutter's philosophy of Quality, Experience and Value has helped the company serve over 40,000 clients. With a state-of-the-art factory and a team with over 180 years combined experience, Naples Shutter provides fine quality products and expert installation.
To learn more about Naples Shutter, please contact Brian Trecek at (239) 566-8161 or email info@naplesshutter.com. Also, please visit www.naplesshutter.com for more information.