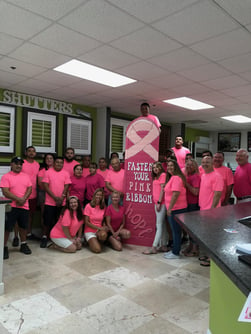 Naples, Florida, November 13th, 2018-- Local plantation shutter manufacturer, Naples Shutter, announces that it will donate a portion of proceeds from all October sales to the Susan G. Komen Foundation, benefiting breast cancer research and awareness. Naples Shutter provides superior window treatment products and hurricane protection to the residents of Southwest Florida and beyond and is located on Power Street in Naples.
The Naples Shutter team donated to the Susan G. Komen Foundation. With over 266,000 new cases of breast cancer estimated to emerge in 2018, the Foundation's number one goal is to end breast cancer forever. With over 370,000 advocates fighting for more funding for research and more care facilities and over one million supporters who participate in various events across the country, the Susan G. Komen Foundation (https://ww5.komen.org/) is one of the biggest organizations in the fight to end this disease.
Naples Shutter (www.naplesshutter.com) is a staple in the Southwest Florida community, providing residents with window treatments, such as plantation shutters made right in their Naples factory, blinds and shades and a wide variety of hurricane protection products. Co-Owner, Brian Trecek, speaks about giving back and his hopes for the future of the Susan G. Komen Foundation.
"We're always looking to give back to the community, and the [Susan G. Komen] Foundation was what we wanted to focus on, helping to change the future when it comes to breast cancer and those who are affected by it. We're hopeful that together, we can finally find a cure," he says.
About Naples Shutter
Proudly serving Southwest Florida and beyond since 1981, Naples Shutter's philosophy of Quality, Experience and Value has helped the company serve over 40,000 clients. With a state-of-the-art factory and a team with over 180 years combined experience, Naples Shutter provides fine quality products and expert installation. In addition to hurricane protection, Naples Shutter also provides custom plantation shutters, blinds and luxury shades to its clients across the country.
To learn more about Naples Shutter, please call (239) 566-8161 or email info@naplesshutter.com. Also, please visit www.naplesshutter.com for more information.