Punta Gorda, Florida, January 9th, 2020-- Southwest Florida plantation shutter manufacturer and hurricane protection supplier, Naples Shutter, announces the success of its annual Christmas lunch at the Military Heritage Museum, located in Punta Gorda. Naples Shutter has been a prominent force in the area's window treatment industry since 1981 and provides exceptional products to customers throughout the state and beyond.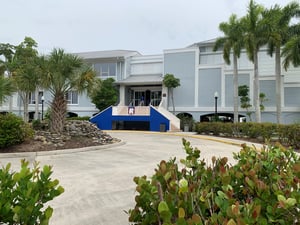 Last month, team members from Naples Shutter joined the volunteers of the Military Heritage Museum for their annual Christmas lunch. Naples Shutter delivered home-cooked ribs and macaroni and cheese to the lunch, which proved to be a big hit with the museum team. The lunch, which has become a tradition for Naples Shutter and the Military Heritage Museum, was well-received and the volunteers, many of which are military veterans themselves, were grateful for the company and the delicious food.
Naples Shutter (www.naplesshutter.com) supplies its loyal customers with top-of-the-line products, such as custom-made plantation shutters, blinds and shades, Bahama shutters and hurricane protection. The team has decades of experience in the industry, making them a popular choice with residents of Southwest Florida for all of their window treatment needs.
Brian Trecek, Co-Owner of Naples Shutter speaks about the lunch and what it means to the Naples Shutter team.
"We try to do everything we can to support our community and thank the brave men and women who protect our country. We are so proud to live in this great nation and we like to give back as much as we can," he explains.
Gary Butler, Executive Director of the Punta Gorda Military Heritage Museum expresses his sincere thank you.
"We are thankful for the generous donation of the delicious BBQ for the volunteer Christmas party. Your donation was a great success for all who attended," he says.
About Naples Shutter
Proudly serving Southwest Florida and beyond since 1981, Naples Shutter's philosophy of Quality, Experience and Value has helped the company serve over 40,000 clients. With a state-of-the-art factory and a team with over 180 years combined experience, Naples Shutter provides fine quality products and expert installation. In addition to hurricane protection, Naples Shutter also provides custom plantation shutters, blinds and luxury shades to its clients across the country.
To learn more about Naples Shutter, please contact Brian Trecek at (239) 566-8161 or email info@naplesshutter.com. Also, please visit www.naplesshutter.com for more information.