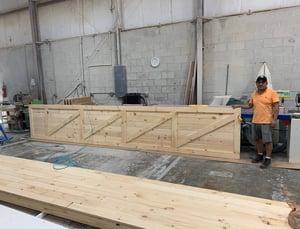 Naples, Florida, April 21st, 2020-- Southwest Florida plantation shutter manufacturer, Naples Shutter, announces that its shutters have been featured in a recently renovated Wisconsin theater, which has just become a recipient of an architectural design award. Northern Sky Theater, located in Fish Creek, Wisconsin proudly showcases these shutters in its new two building campus, which just opened earlier this year. Naples Shutter provides various window treatments to Southwest Florida and beyond and has been a staple in our community for over 39 years.
In Business Magazine featured Northern Sky Theater Creative Center and Gould Theater in its latest issue, highlighting some of the most impressive commercial designs in the local area. The organizations have been in operation for 29 years, yet never had a dedicated space to call their own, until now. The company expanded throughout Door County, Wisconsin into many rental facilities until it got too difficult to manage all of the facilities, and a change needed to be made. The new two building facility houses the theater program and provides a companion to its outdoor amphitheater. Design was high on the priority list when constructing the new facility, and Naples Shutter came in to help, manufacturing shutter panels that were over 44 inches wide and 24 feet tall. Stylish, specially designed plantation shutters were installed onto the theater walls, providing a level of architectural appeal that impresses. The theater company is able to operate them easily, leaving them open when patrons are seated, allowing for pristine views of the patio and outdoor area, and closing them when the show begins.
Naples Shutter (www.naplesshutter.com) manufactures its shutters right in Naples and has a dedicated specialty department for unique projects, such as this. The company also sells blinds and shades, exterior shutters and hurricane protection to clients, and prides itself on expert craftsmanship, professionalism and a dedicated sales and installation team.
Jon Leach, Co-Owner of Naples Shutter speaks about the Northern Sky Theater project and the idea behind the unique shutter design and installation.
"We wanted to create something as unique as the theater itself. The [Northern Sky] Theater revolves around creativity and the nature that surrounds it, so we didn't want to take anything away from that. That's why we designed the shutters the way we did, so that they complemented the space and added to its level of uniqueness and sophistication," he explains.
About Naples Shutter
Proudly serving Southwest Florida and beyond since 1981, Naples Shutter's philosophy of Quality, Experience and Value has helped the company serve over 40,000 clients. With a state-of-the-art factory and a team with over 180 years combined experience, Naples Shutter provides fine quality products and expert installation. In addition to hurricane protection, Naples Shutter also provides custom plantation shutters, blinds and luxury shades to its clients across the country.
To learn more about Naples Shutter, please contact Jon Leach at (239) 566-8161 or email info@naplesshutter.com. Also, please visit www.naplesshutter.com for more information.