Museum's Annual Pot Luck Attracts 80 Local Veterans and Family Members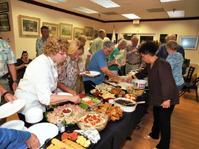 Punta Gorda, FL – Naples Shutter, Inc. (http://www.naplesshutter.com) announced today that it provided an array of barbeque ribs and smoked meats to the Military Heritage Museum (http://freedomisntfree.org/) to honor veterans at its annual Holiday Pot Luck. The event was held on Sunday November 30, 2014 in the museum's newly renovated conference space, located above the museum itself in Punta Gorda's Fisherman's Village district. Attending the event were approximately 80 United States military veterans, museum volunteers, friends and family members. Attendees included Bill Meinrich, President and Marilyn Smith-Mooney, Past President of the museum. The event was coordinated by Kim Lovejoy, Executive Director of the museum and Master sergeant, U.S. Air Force, Retired Reserve.
"The Military Heritage Museum has always held a special place in our hearts, mainly because of the involvement of our Hurricane Manager Robert Riggs," said Brian Trecek, Vice President of Naples Shutter. "Robert is a veteran himself who tirelessly gives of his time to help the museum and spread the word about the good work being done there. Naples Shutter was happy to contribute to the museum's annual party in honor of these special service people."
---
About the Military Heritage Museum
The Military Heritage Museum's goal is to ensure that future generations continue to express gratitude for the military services given by previous generations. Its mission is to promote an understanding and respect for the rich military heritage of the United States and the sacrifices made by the country's veterans, living and dead, emphasizing that freedom is not free.
The Military Heritage Museum is a nonprofit 501(c)(3) corporation that has been in existence for almost ten years. The Museum is located in Fishermen's Village in Punta Gorda, Florida. The Museum is funded by donations and grants, and a paid executive director and administrative assistant are supported by 45 volunteers — mostly veterans — who work as Museum guides and help in other ways.
---
About Naples Shutter, Inc.

Naples Shutter, Inc., proudly serving Southwest Florida and beyond since 1981, is a family-owned company with a passion for quality and service. Naples Shutter manufactures custom plantation shutters in its 14,000 sq. ft. factory in Naples, Florida. They also supply the top lines of "Made in America" products for windows including blinds, shades, drapery, hurricane fabric, impact windows and doors, roll down and accordion shutters, and exterior Bahama and Colonial shutters. Their team of sales consultants, professional installers, and customer service personnel serves clients not only at the time of the sale, but also for many years to come.
For more information, please visit http://www.naplesshutter.com or call (239) 566-8161.