Naples, Florida, August 23rd, 2016—Naples Shutter was named the Silver award winner in three categories at the 2016 Naples Daily News Southwest Florida Choice Awards earlier last month in the Hurricane Protection, Window Treatment and Plantation Shutter categories. This year marks the first year that the company has won in the all new Plantation Shutter category and the fourth consecutive year for Hurricane Protection and Window Treatments.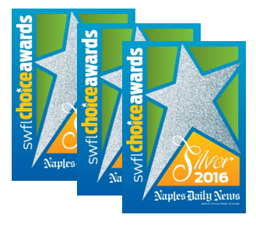 Naples Shutter (www.naplesshutter.com), a plantation shutter manufacturer headquartered in Naples, Florida, has been providing window treatments, hurricane protection and more in the Southwest Florida area for over 30 years. Their team of dedicated sales representatives, expert installers and helpful customer service professionals assists clients in choosing the right window treatments for their home. Known for top-notch quality products and installation, Naples Shutter is a popular choice for plantation shutters, blinds and shades, exterior applications and hurricane products. They have also recently opened their own in-house paint facility, which utilizes environmentally friendly water-based paint.
Marking the fourth consecutive year of being a Choice Awards Winner, Naples Shutter has won Gold in the Hurricane Protection and Window Treatment categories from 2013 through 2015, and Silver at this year's awards. The Plantation Shutters category was new this year and Co-Owners Jon Leach and Brian Trecek were excited to win the award.
"We pride ourselves in providing custom products that are manufactured with quality materials and are so proud of our wonderful team. We've grown a lot throughout the years and are truly grateful for all of our loyal customers. Without them, we wouldn't be here today," says Leach.
About Naples Shutter
Proudly serving Southwest Florida and beyond since 1981, Naples Shutter's philosophy of Quality, Experience and Value has helped the company serve over 40,000 clients. With a state-of-the-art factory and a team with over 70 years combined experience, Naples Shutter provides fine quality products and expert installation.
To learn more about Naples Shutter, please contact Brian Trecek at (239) 566-8161 or email info@naplesshutter.com. Also, please visit www.naplesshutter.com for more information.
Contact
Naples Shutter, Inc.
Brian Trecek
(239) 566-8161
Info@naplesshutter.com