Naples, Florida, March 8th, 2017—Naples Shutter, a local plantation shutter manufacturer announces its participation in the Home Base Family and Golf Outing for the 6th straight year. Held at the Kensington Country Club in Naples, this charity golf event, which will be held on Saturday, March 11th, aims to support Southwest Florida veterans.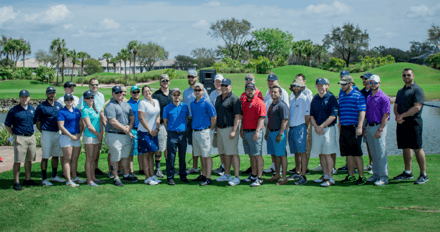 Home Base (http://homebase.org/) is a Red Sox Foundation and a Massachusetts General Hospital Program, raising funds to further research for the Invisible Wounds, which includes post-traumatic stress and traumatic brain injuries for service men and women, post 9/11 veterans and their families. The golf event's honorary director, General Fred Franks, is a 4-star Army General (retired), having served his country for over 35 years. Presently, he serves as Chairman of the Board of the VII Corps Desert Storm Veterans Association and has also collaborated with author Tom Clancy on his novel "Into the Storm – On the Ground in Iraq." For every $4000 raised in the event, the foundation is able to enroll one Southwest Florida veteran in the Warrior Health and Fitness Program.
Naples Shutter (www.naplesshutter.com) has been involved in this event since its inception in 2011. A manufacturer of plantation shutters, Naples Shutter also provides hurricane protection, blinds and shades and exterior applications to their clients, and has been helping residents in Southwest Florida for over 35 years. Brian Trecek, Co-Owner of Naples Shutter reflects on the past six years of the Home Base program.
"Seeing an organization like this and how hard they work to provide for our veterans is a breath of fresh air, and we're more than willing to lend a hand to this great cause. We hope that we can help veterans out there get the treatment and ongoing care that they truly deserve," he says.
About Naples Shutter
Proudly serving Southwest Florida and beyond since 1981, Naples Shutter's philosophy of Quality, Experience and Value has helped the company serve over 40,000 clients. With a state-of-the-art factory and a team with over 70 years combined experience, Naples Shutter provides fine quality products and expert installation.
To learn more about Naples Shutter, please contact Brian Trecek at (239) 566-8161 or email info@naplesshutter.com. Also, please visit www.naplesshutter.com for more information.