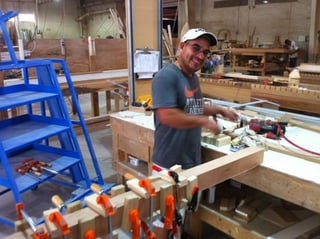 Naples, Florida, July 11th, 2017—Naples Shutter, a Naples-based window treatment provider and manufacturer of plantation shutters announces that Mario Estala has been promoted to Operations Manager. Naples Shutter prides itself on expert craftsmanship, professional installation and products made in the USA, and has been serving the residents of Southwest Florida and across the country since 1981.
Estala has been a part of the Naples Shutter team for over 20 years and has been responsible for managing the construction department for the past 12 years. His eye for detail and building the perfect plantation shutter made him stand out as an obvious choice for taking on the role of Operations Manager. In this role, Estala will be responsible for overseeing all construction, specialty, framing, painting and inspection aspects of the plantation shutter manufacturing process.
Naples Shutter (www.naplesshutter.com) has been a staple in the Southwest Florida community for over 35 years, providing products, such as plantation shutters, blinds and shades, exterior shutters and hurricane protection to loyal clientele. Brian Trecek, Co-Owner of Naples Shutter talks about Estala's new role and what that means for the future of the company.
"I've seen Mario [Estala] grow with this company for many years now, and I know that he will prosper in his new role and our customers will benefit from his attention to detail and perfectionism. We are looking forward to Mario's continued success in this new endeavor," he says.
Estala is also looking forward to this new responsibility.
"Being with this company for so long, I feel like they are family, and I am excited to benefit this company even more in this new role," says Estala.
About Naples Shutter
Proudly serving Southwest Florida and beyond since 1981, Naples Shutter's philosophy of Quality, Experience and Value has helped the company serve over 40,000 clients. With a state-of-the-art factory and a team with over 180 years combined experience, Naples Shutter provides fine quality products and expert installation.
To learn more about Naples Shutter, please contact Brian Trecek at (239) 566-8161 or email info@naplesshutter.com. Also, please visit www.naplesshutter.com for more information.