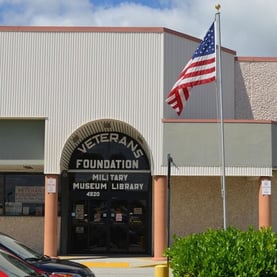 Cape Coral, Florida, January 24th, 2018—Naples Shutter, a prominent plantation shutter manufacturer in Southwest Florida announces its participation in the annual Volunteer Dinner at the Military Heritage Museum, being held on Sunday, January 28th at the museum, located in Cape Coral. This year marks the fifth year that Naples Shutter has donated to the dinner.
The Military Heritage Museum's mission is dedicated to honoring and supporting our local military heroes, who have either served or continue to serve in the United States Armed Forces. Seeking to preserve the stories behind the veterans and active duty members of our local Southwest Florida community, the museum is home to many stories, commemorated by photographs and video biographies. Each year, the museum hosts a dinner for all of the museum volunteers, staff and Board members, many of whom are veterans themselves. Company includes local elected officials and members of the media. Barbecue supplied by the Naples Shutter Barbecue team will be served, along with side dishes and desserts from other members and supporters.
For the past 37 years, Naples Shutter (www.naplesshutter.com) has been supplying our local Southwest Florida community and beyond with top-quality window treatment products, including premium plantation shutters, luxury blinds and shades, exterior applications and a variety of hurricane protection options. Through superior customer service, expert product knowledge and the use of the finest materials, Naples Shutter has continued to be a top choice for window treatments in the area.
Brian Trecek, Co-Owner of Naples Shutter speaks about donating to the Military Heritage Museum.
"Our local military heroes have done so much to protect our freedom, so when we get the chance to give back, we're more than happy to do that. We enjoy supporting this outstanding group of individuals each year," he says.
About Naples Shutter
Proudly serving Southwest Florida and beyond since 1981, Naples Shutter's philosophy of Quality, Experience and Value has helped the company serve over 40,000 clients. With a state-of-the-art factory and a team with over 180 years combined experience, Naples Shutter provides fine quality products and expert installation. In addition to hurricane protection, Naples Shutter also provides custom plantation shutters, blinds and luxury shades to its clients across the country.
To learn more about Naples Shutter, please contact Brian Trecek at (239) 566-8161 or email info@naplesshutter.com. Also, please visit www.naplesshutter.com for more information.