Naples, Florida, October 12th, 2017—Hurricane Fabric, a leading provider of hurricane protection, releases a success report of one of its most popular products, AstroGuard Hurricane Fabric during the recent storms that battered our country in the last two months--- Hurricane Harvey, Hurricane Irma and Hurricane Maria. Hurricane Fabric (www.hurricanefabric.com) is located in Delray Beach, Florida and has been assisting clients worldwide for decades, offering superior hurricane protection products and solutions to residents in hurricane-prone regions.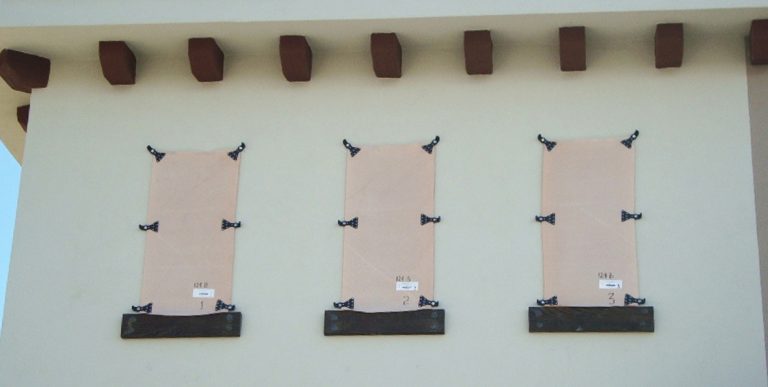 AstroGuard Hurricane Fabric is a resin-coated hybrid fabric that is installed on the home, using specialized clips which keep the fabric in place. Unlike traditional metal panels or plywood, AstroGuard is made of a flexible material, which allows flying debris to bounce off of it, rather than puncture it. One of the greatest dangers during a hurricane is not windows breaking. It is a build-up of pressurization in the home. This can be caused by hurricane protection that has been struck and compromised or ill-fitting hurricane protection, and results in roof lift-off, causing catastrophic damage to the home. Windows may break, but with adequate hurricane protection, you can decrease your risk of rapid pressurization and losing your roof.
Recent tests of AstoGuard Hurricane Fabric prove its energy absorption, as projectiles with speeds of 74 mph bounce off of the fabric, yet puncture rigid panels, like metal rolldowns and accordions. AstroGuard's non-porous material makes it 2 ½ times stronger than other hurricane fabric products and more water-resistant than the competition. As more reports come in from the recent storms, it is apparent that homeowners are thankful that they chose AstroGuard Hurricane Fabric instead of other hurricane products on the market.
Local AstroGuard Hurricane Fabric provider, Naples Shutter (www.naplesshutter.com), has received numerous reports from clients who were fortunate enough to have AstroGuard protection on their windows and witnessed first-hand the destruction to the homes that didn't have AstroGuard. Brian Trecek, Co-Owner of Naples Shutter speaks about the reports that have come in.
"We are getting many clients calling in with metal panels who swear they will never use them again after a storm like [Hurricane] Irma. We are also getting calls from clients, thanking us for providing them with a product like AstroGuard after seeing their neighbors' homes practically destroyed due to inadequate hurricane protection," he says.
Scott Purcell, former Owner of Hurricane Fabric speaks about why AstroGuard is a preferred method of protection against devastating storms.
"Not only does AstroGuard Hurricane Fabric offer unparalleled protection from flying debris, rain and wind, it is also much easier to deploy on the home. Traditional metal panels take about five trips to the garage for panels, tools and supplies per shutter, while AstroGuard takes about one trip per five windows. It's also half the cost of impact glass and has been tested using the most rigorous testing in the industry today," he says.
About Hurricane Fabric
Hurricane Fabric delivers "full envelope" protection of your home or commercial property against hurricane force winds, preventing the rapid pressurization of the building. Hurricane Fabric products weigh just ounces per square yard, are more affordable than most hurricane products on the market and are easier to deploy than much of the competing hurricane products, making it one of the simplest systems to manage.