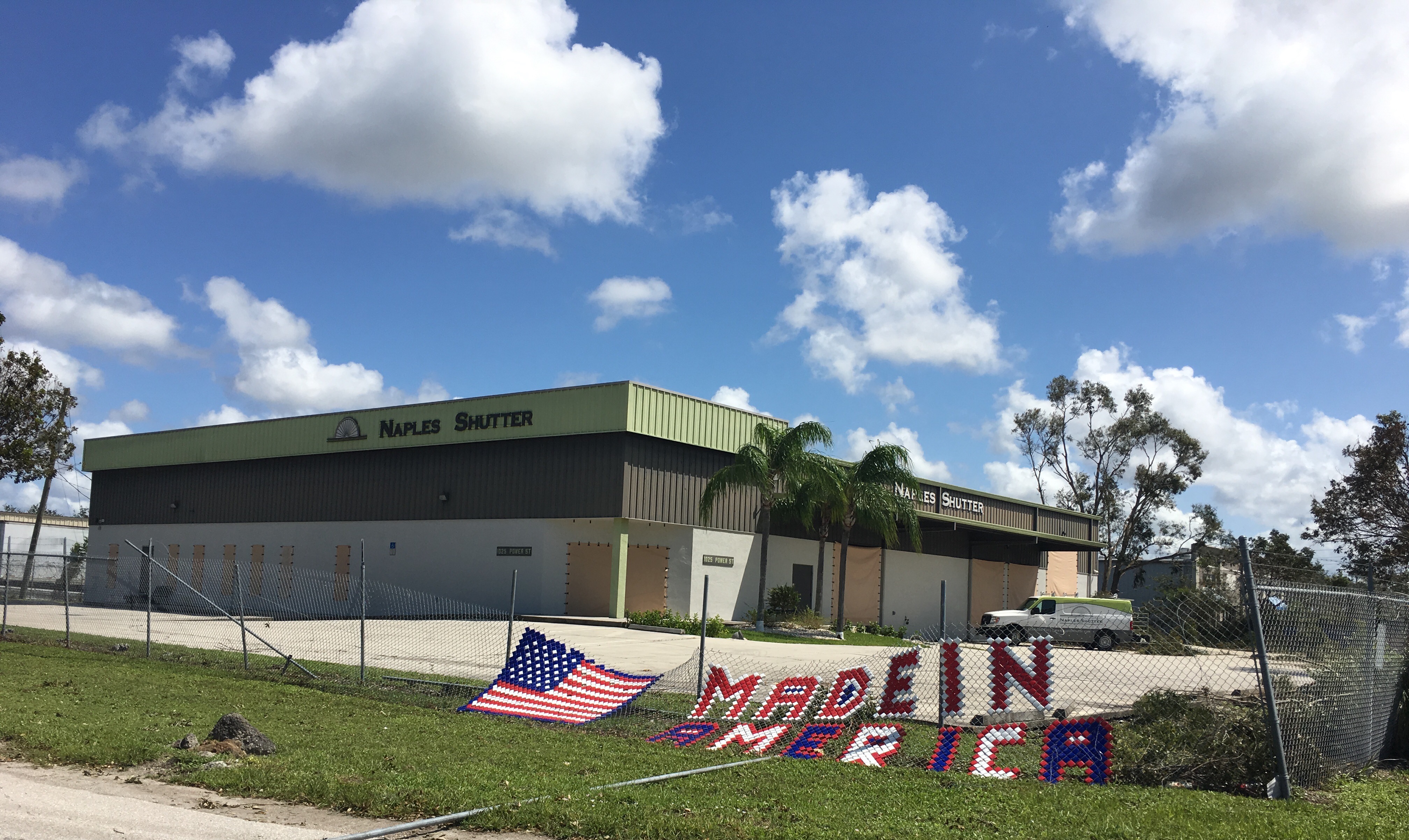 Naples, Florida, November 16th, 2017—Plantation shutter manufacturer and hurricane product provider, Naples Shutter announces today that it will donate $940.00 to the American Red Cross, in order to benefit the victims of Hurricane Irma. Naples Shutter has been providing superior products to residents of Southwest Florida and clients across the country for over 35 years and is located on Power Street in Naples.
For every panel of AstroGuard Hurricane Fabric sold, the company donated $5 to the American Red Cross, with a total of 188 panels sold and $940.00 being donated to assist victims of the recent hurricane. AstroGuard Hurricane Fabric is proven to be one of the most effective products for hurricane protection on the market today. It is Category 5 windload tested, Florida Building Code and HVHZ approved (#12573) and blocks out 99% of wind and rain during a storm. Many homeowners are choosing this as a means to protect their home and family from storms, like Hurricane Irma, which brought 142 mph winds and ravaged our area just two months ago, leaving many without food, water or electricity for weeks.
Naples Shutter (www.naplesshutter.com) provides custom window treatments, including plantation shutters, blinds and luxury sheers, as well as exterior Bahama and Colonial shutters and various forms of hurricane protection to clients in Southwest Florida and beyond. Co-Owner, Brian Trecek speaks about being able to give back after this devastating event.
"Seeing the damage from [Hurricane] Irma first-hand, we knew that we had to do something to help. We are humbled by the response that we received from this relief effort and hope that it will help the victims get back on their feet," he says.
About Naples Shutter
Proudly serving Southwest Florida and beyond since 1981, Naples Shutter's philosophy of Quality, Experience and Value has helped the company serve over 40,000 clients. With a state-of-the-art factory and a team with over 180 years combined experience, Naples Shutter provides fine quality products and expert installation. In addition to hurricane protection, Naples Shutter also provides custom plantation shutters, blinds and luxury shades to its clients across the country.
To learn more about Naples Shutter, please contact Brian Trecek at (239) 566-8161 or email info@naplesshutter.com. Also, please visit www.naplesshutter.com for more information.