When it comes to finding the look that works in your home, it can be difficult to keep up with the latest trends. Gray hues and patterned rugs are still in, right? The same goes for your window treatments. Designing your home to not only work how you need it, but also look how you want it can be a big undertaking, and when it comes to your window treatments, you may be surprised at how many options are available. What many homeowners don't realize is how much window treatments can impact a space, which is why choosing wisely is key. When it comes to window fashion trends, what window treatments are in style? Let us help you find the right style for your home! Here are our top picks...
Luxury Sheers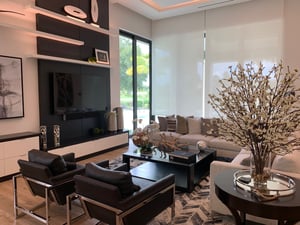 Giving off an air of sophistication and functionality as well, luxury sheers are a top choice when it comes to giving the space an upgrade. Providing light control and privacy, not to mention intense beauty, luxury sheers are designed with style in mind. Many luxury sheers offer the same look as a drapery treatment, but with the operation of a shade, and many are available in motorized options to make operation easy and effortless. If you're looking for fashion, luxury sheers deliver with their ability to diffuse light gracefully and beautifully.
Woven Wood Shades
An eco-friendly alternative to plastic shades, woven woods are ideal if you're looking to add a little extra style to the space. Woven woods are comprised of natural elements, such as:
Reeds
Grasses
Woods
Bamboo
These shades provide rich warmth to the space and because of the variety of materials that are included in each shade, these shades deliver that element of texture that every space needs. If you're looking for color and depth in your home, you may want to consider opting for woven wood shades. These shades are available in many different options, including blackout and motorization, making them a perfect choice for many areas of the home.
Plantation Shutters
Traditional plantation shutters have stood the test of time. Blending into virtually every style of home, their crisp, clean look is unmatched. Plantation shutters simply work in the space and can be customized to meet your needs. Everything from louver size to midrail location to framing options can be customized in order to make the most out of your windows. You're able to paint them any color imaginable or stain them to match an existing piece of furniture for a more regal look. Any way you look at it, plantation shutters are a win in the modern-day home.
Your Window Fashion Options
As more and more homeowners gravitate toward a more modern, minimalistic look, design choices will evolve, and window treatments are no exception. If you're looking to add style to your space, consider some of our top picks for window treatment fashion. And as always, remember to choose what works for you in your home and what works with your budget. And when you see your window treatments unveiled for the first time, take a moment to appreciate them and all that they add to your home.