French doors are commonly found in many homes, and can be tricky openings to cover. When it comes to window treatments for French doors, there are a variety of products on the market today, depending on your home's style and your budget. The key with French doors is functionality, since the handle of the door needs to be able operate properly, or you'll never be able to use the door. Window treatments should enhance the look of your home, not hinder the functionality of the space. Here are our top picks for French door window treatments.
French Door Plantation Shutters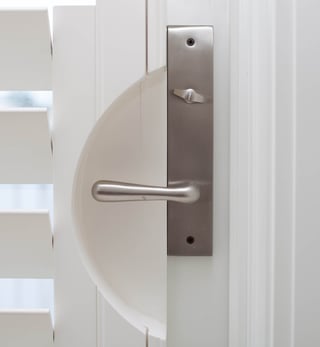 A top pick of ours (and not because we are biased) are custom plantation shutters. The reason why plantation shutters work so well with French doors is the ability to add a cut-out for the handle. Whether it is a lever or a knob, or something else, it needs to be able to turn or rotate without the window treatments getting in the way. That's why custom plantation shutters are a top pick. They can be customized to fit virtually any handle size and shape, so that you won't have to worry about being unable to open and close your French door. Plantation shutters also have many other perks, including:
Ability to paint and stain in a wide array of colors.
Customization options for handles, louver size and tilt preference.
Durable construction and little maintenance required.
If plantation shutters aren't your style or don't fit into your budget, don't worry! We've got a couple more options for you to consider.
Modern Roman Shades
Roman shades are another popular way to cover French door openings. These shades are constructed of luxury fabrics and come in a variety of colors and styles, making it a top choice for many homeowners who want a stylish look at a more affordable price. Our pick is the Hunter Douglas Vignette shade. With its soft folds and modern fabrics, these shades have a clean, crisp look, and also come in three distinct styles, which are:
Traditional—4" full fold or 6" flat fold which rolls up into the headrail.
Tiered—stacks into a low-profile headrail.
Traversed—4" full fold that operates in a vertical position, stacking left, right or anywhere in between.
Modern roman shades offer versatility and a contemporary touch to the home, and are quite easy to care for and maintain.
Cellular Shades
Cellular shades work well with French door openings, because their construction leaves room to open and close the door without getting in the way. Cellular shades have an accordion pleat and are extremely energy efficient. They also are offered in a top-down, bottom-up option, which allows you to close the top portion of the shades, while allowing the bottom portion to be opened, or vice versa. This helps when you need privacy, yet want to let light into the room. Cellular shades are offered in a variety of colors and are an affordable pick when looking for French door window treatments.
Top Window Treatments for French Doors
We could go on and on about our favorite options when it comes to French door window treatments, but we'll stick to these three. From timeless plantation shutters to modern roman shades to energy-efficient cellular shades, there is a product to meet your needs when it comes to your French doors. Our tip to you is to figure out the style you're going for and find a product that is not only stylish, but also maintains the door's functionality and is within your desired budget.