It's that time of the year…the days are getting longer, the weather is getting warmer and you can feel it in the air that summer is right around the corner. As Spring graces us with its presence, many of us start feeling the need to dust ourselves off and get our homes sparkling again. As you think about your Spring cleaning checklist, don't forget about this often overlooked item: your window treatments. We get used to seeing them every day, so it's no wonder why we sometimes forget about them, as they seem to blend in with our home, but it's important to make sure you're doing them a favor by making sure they're clean.
We're here to help you with your Spring cleaning this year, so let's get started!
Spring Cleaning Checklist: Cleaning Your Plantation Shutters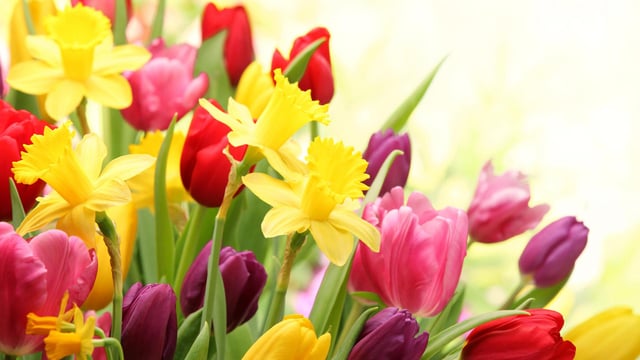 Keeping your custom plantation shutters clean is really rather simple. Plantation shutters are either made out of wood (we prefer poplar) or a durable composite material, depending on which you prefer. This being said, using harsh chemicals on these is not recommended. Instead, grab a dust cloth and gently wipe down the slats (or louvers, as we like to call them) on the front, then tilt them, so you can get the back as well. Using water or any other cleaner is not recommended, as it can damage the painted surface and potentially warp the wood.
Spring Cleaning Checklist: Cleaning Your Blinds & Shades
There are a number of different types of blinds, ranging from simple honeycomb shades to luxury sheers, so keep this in mind when you go to clean them. Dust blinds off with a dust cloth, preferably lamb's wool, not plastic. This will be gentle enough as to not damage the blinds. Some experts also recommend vacuuming them; however, it is advised that for vertical blinds, vacuum downward, as opposed to an upward motion, as this prevents the slats from becoming unhooked. For horizontal applications, vacuum in a side-to-side motion, as opposed to an up-and-down motion, and it is important to vacuum with the brush attachment to prevent damage from occurring.
Spring Cleaning Checklist: Cleaning Your Drapery Treatments
Drapery treatments can be tricky when it comes to keeping clean. It's important to note that before cleaning, it is a good idea to speak to the company that you bought them from about proper maintenance. Being aware of what material they are made of is important, so you can know if they may be placed in the washer or dryer safely. If not, the drapery panels will need to be dry-cleaned. Common cleaning tasks include:
Gently dusting the valance and hardware with either a vacuum or cloth duster (if you can reach).
Steaming any creases or wrinkles out of the fabric with a handheld steamer.
Spot-cleaning as necessary with a gentle cleanser (if the fabric allows) and a small amount of water.
Getting dust and debris off of the fabric, using a lint roller or soft brush.
Spring Cleaning and Your Window Treatments
Making sure to include your window treatments in your Spring cleaning checklist is important and making sure you clean them the proper way can ensure a long life for your beautiful window treatments. The key is to be gentle and with a little maintenance, they'll be looking brand new in no time!