It should come to no surprise to residents of Southwest Florida that it's that time of the year again. The winds are picking up, the days are getting hotter and the daily rain is on its way. Hurricane Season will soon rear its ugly head and everybody knows that it's important to be protected. Many homeowners worry about what type of hurricane protection is available for their sliding glass doors. After all, many homes have sliding glass doors throughout; some even have them running along the length of their homes.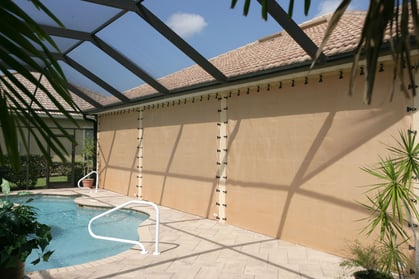 Since sliding glass doors occupy a lot of space in the home, protecting these spaces is of the utmost importance. Today we're going to talk about the different types of hurricane protection you can utilize for your sliding glass doors, so you're not left in a jam when a hurricane is on its way.
AstroGuard Hurricane Fabric
First on our go-to list is AstroGuard Hurricane Fabric, a resin-coated hybrid fabric that provides a full envelope of protection over your home. AstroGuard is 40% stronger than its polypropylene competition and works by deflecting hurricane winds, which prevents pressurization of the home. Simply stated, if too much pressurization builds up, roof lift off may occur, causing catastrophic damage to the home. Many homeowners are choosing AstroGuard Hurricane Fabric for their home's protection. Other benefits include:
Category 5 wind load tested
Translucency lets in light, preventing the cave-like feeling that can occur with other forms of hurricane protection
Florida Building Code and HVHZ approved (#12573)
Blocks 99% of wind and rain
AstroGuard is deployed over windows, sliding glass doors, lanais and more, and is a trusted source for hurricane protection here in Southwest Florida.
Rolldown Shutters
Rolldown shutters are another form of hurricane protection that you may find on many homes. Permanently installed on your windows and doors, rolldown shutters are composed of extruded aluminum and are controlled by either a crank mechanism or a motor. They can be operated with ease inside or outside of the home, and can be rolled to any desired position. Here are some other reasons why homeowners choose rolldown shutters:
Permanently installed, so there's no issue deploying them at storm time
Easy operation from inside or outside of the home
Motorized or crank options available
Accordion Shutters
The next form of hurricane protection for your sliding glass doors are accordion shutters. Also permanently installed on your home, accordion shutters run along a track, which is installed on the top and bottom of your windows and doors. A stainless-steel roller-carriage system assures that opening and closing your hurricane shutters will be a breeze, and a center handle and key lock can be installed on the inside, outside or both sides of the shutters to make operation simple. Other benefits of accordion shutters include:
Removeable track options to prevent tripping when shutters aren't deployed
Variety of stacking options, depending on the size of the opening
Easy operation from inside or outside (or both sides) of the shutter
Your Sliding Glass Doors
With a variety of different options to choose from, you can ensure that your sliding glass doors are protected when a storm is on its way. After all, protecting you and your family is most important, so choosing a trusted source is key. Don't get caught without hurricane protection…find the right product that fits your needs. Your home depends on it.