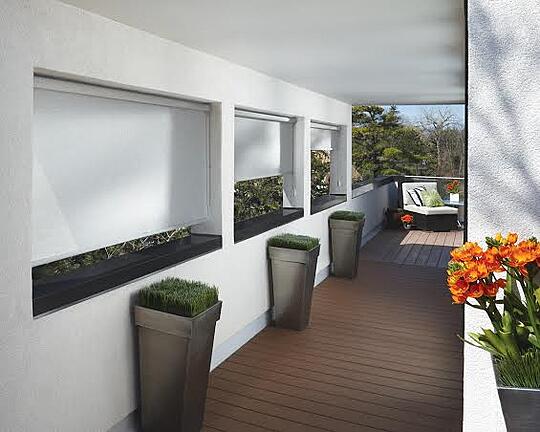 Choosing a window treatment can be hard work. You want something that is functional, not to mention something that you can live with looking at everyday. Some options provide function, but don't have the look. Some have the look, but just don't get the job done. Outdoor screen shades not only do the job, they look great while doing it!
Every home is different and every person has different tastes, so how do you know if outdoor screen shades are right for you?
Outdoor Screen Shades: What They Are
These cable-guided roller shades offer protection on your patio or lanai from the sun's harmful rays, while also making a decorative statement. These shades are offered in a variety of colors to complement the look of your home, and also a variety of upgrade options to choose from, like top and bottom treatments and syncing with your phone or tablet.
Outdoor Screen Shades: What They Do
Outdoor screen shades not only look great, they also do a fantastic job of protecting your valuables from the sun's wear and tear. Protect furniture, artwork, and carpeting from fading in the sun with these nice accents to your home. Backed by a limited lifetime warranty and made in the United States, outdoor screen shades are functional and can hold up in tough weather conditions.
Complementing Your Home
Being able to customize your window treatments is key in establishing a look and feel of your home that you love, and are going to continue to love even years down the road. Outdoor screen shades come in many different colors and fabric styles that some traditional screens don't offer. Don't think that your only option is a plain, white shade. Go bold with black or bronze, or keep it simple with a soft white or yellow.
Try adding your smartphone or tablet to the mix, by syncing it to the operation of your shades. With just a touch of a button, all of your shades can come down and provide a perfect outdoor oasis on steamy summer evenings.
Are They Right For You?
Not everyone wants the same things in their homes. If we all wanted the same things, we wouldn't be unique! If you can answer yes to any of the following questions, outdoor screen shades might just be the solution to your outdoor patio needs:
Do I want a product that is functional and durable for outdoor use?

Is it important to me that my belongings are safe from UV rays?

Do I want something that complements the room without looking industrial or bulky?

Do I want to be able to enjoy my patio or lanai even on the hot summer days?
So there you have it! Another option for your patio or lanai that is not only functional, but attractive. Outdoor screen shades might be the right direction for you if you want durability and a look that you will love for years to come.