Being able to relax amidst the picturesque backdrop of our Southwest Florida paradise is important for many homeowners. Embracing the tranquility of outdoor living has become more and more popular over the years, and homes are now equipped with impressive outdoor living areas that feature top-quality outdoor kitchens, beautiful pools and spas, water features and space to entertain. When it comes to embracing our Southwest Florida paradise, don't forget about your window treatments. They need to be able to handle our sometimes harsh climate just like anything else in your home. Here's our top picks for the best window treatments for outdoor living.
Outdoor Roller Shades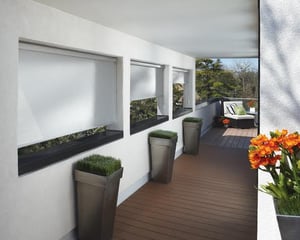 As the name proclaims, these shades are built to last outdoors. These roller shades are cable-guided and work wonders when it comes to protecting your space from the harsh sun. Not only are outdoor roller shades functional, they're meant to add style to your space. Choose from a variety of colors and fabric styles to complement your outdoor space. Try a bold, vibrant color to add a bit of excitement to your outdoor living area or maybe a soft tone to provide the perfect ambiance in the space. No matter what option you choose, know that your valuables are being protected from fading in the harmful UV rays.
Cristalum Plantation Shutters
Love the look of custom plantation shutters, but don't want them to get ruined in the wet, humid climate? Cristalum shutters are a fantastic alternative for homeowners who want style and functionality outdoors. Constructed of extruded aluminum, Cristalum shutters are meant for indoor-outdoor use, and offer increased ventilation and protection from the harmful UV rays of the sun. Keep out unwanted pests as well with the ability to open and close the louvers. With an appearance that's very similar to indoor wood plantation shutters, Cristalum plantation shutters stand up to the elements and add a little extra style to your outdoor oasis. Cristalum plantation shutters can be installed virtually anywhere, including:
Lanais
Decks
Pergolas
Patios
Outdoor living spaces
Other moisture-prone areas of the home
Cristalum shutters are a popular choice among homeowners in Southwest Florida, who want the beauty of a plantation shutter that's built for the elements.
Exterior Shutters
Exterior applications, such as Bahama and Colonial shutters not only add architectural appeal to the space, they also increase resale value of the home. Available in hurricane-rated options as well, these shutters are the perfect addition to any home here in Southwest Florida and come in a variety of powder coat options. Versatile and appealing, exterior shutters give your home in paradise a true island feel.
Best Options for the Outdoors
When it comes to outfitting your home with the best window treatments for the space, be sure to find a product that works for you. If you're a plantation shutter lover, you may consider Cristalum shutters as an option. If you're wanting to add a pop of color to your outdoor living area, you may consider an outdoor roller shade, customized to meet your needs Whatever you choose, have fun with it and make sure it adds that extra pizazz to the space.